Quite several "number of casualties" have been confirmed as a result of an overturn by a school coach on the M53 motorway in Wirral, Merseyside, England.
At the scene, "50 other patients" are being treated, while a woman who sustained serious injuries is now in a "serious condition," and she has been moved from the scene to the hospital, this is confirmed by The North West Ambulance Services.
Unfortunately, in these "major incidents" Alder Hey Children's Hospital and Wirral University Teaching Hospital have stated their Emergency Department is "currently extremely busy."
The police report has it that the coach had struck a motorway reservation shortly after 08:00 BST.
The coach and the affected students have been identified by the Caldy Grange Grammar School in the Wirral as their coach and their pupil. And the incident included another school.
According to the school, staff were "actively gathering details and assisting affected students and their families".
Local councillor Sherin Akhtar in his post on X has pointed out the road the coach was travelling to. He said he was travelling to West Kirby Grammar School at the time.
According to West Kirby Grammar, it was aware of the incident "involving the W3 bus service".
The school said "We are in communication with the bus provider and emergency services who have advised that they will keep us updated,"
"We would appreciate your help in keeping our telephone lines clear so that this communication can continue."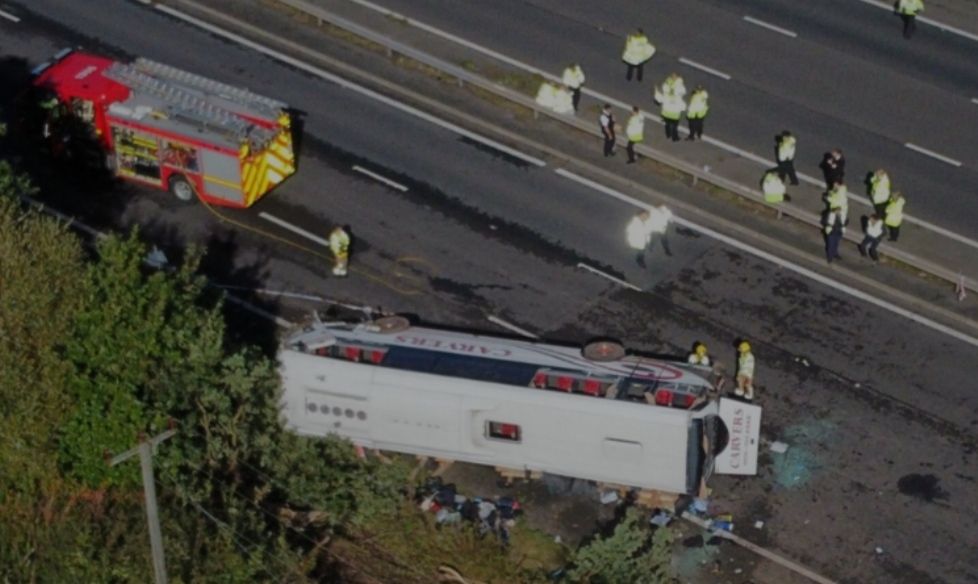 There was an emergency response at the scene, and they included two air ambulances, between Junction 4 at Bebington and Junction 5 in Hooton
The major incident as declared by the ambulance, has said: "So far, one female patient has been taken to the hospital, suffering major trauma-related injuries."
"There are also nearly 50 other patients being assessed at the scene."
"We are working closely with our incident partners to convey people away from the scene."
According to Unison, healthcare workers had left behind their industrial action and taken it upon themselves to return to work to help following the crash, regardless.
These are the words of a Spokesperson: "Our thoughts are with everyone impacted by this terrible incident."
Labour MP for Birkenhead Mick Whitley in a post on X said: "My thoughts are with everyone who's been affected by the terrible incident on the M53."
"Please keep clear of the area and allow the emergency services to do their work."
"If you're a Birkenhead constituent who's been affected, I will do whatever I can to support you."