Actress Tonto Dikeh is preparing another bombshell against her Ex-husband, Olakunle Churchill. "Surviving Churchill" is a tell-it-all book Tonto Dikeh has hinted fans to anticipate. The Nollywood actress is obviously not done talking about her failed marriage to Churchill whom she shares a son, King Andrea with.
Tonto Dikeh has been trending on social media and blogs since she released a 3 part Tell-all interview she titled; "EVIDENCE" on Youtube. In it, she revealed so many intimate details about her ex husband and this time she brought evidences to support her claims.
The mother-of-one went on her social media page, Friday morning to reveal that she woke up with a new inspiration to write a book to be entitled, "Surviving Churchill" on her story.
She wrote:
Wokeup this morning with the spirit of a writer. #TODAY IS FOR HAPPINESS & LAUGHS #TURNING LEMON INTO LEMONADE #YOU SUE ME I CHANGE THE NAME OF MY BOOK AND PUBLISH ANYWAYS #THEMONEYYEAR #SECURING THE BAG #MAN YOU MESSED WITH THE WORST ANGEL.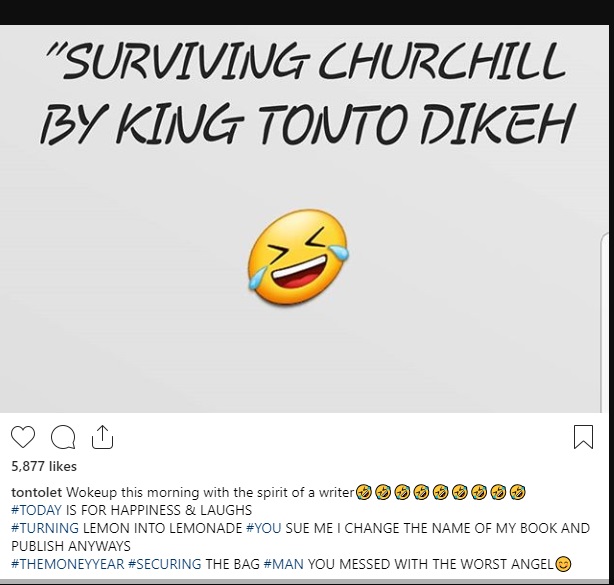 There has been so many back and forth between Churchill and Tonto Dikeh regarding allegations they both have against each other. Tonto has already said she is not done slamming her ex-husband and this new revelation tells us she was not joking.