A 42 year old mother of four, Grace Ogochukwu Dagbo, was killed by suspected armed robbers in Ovwian, Delta state on Saturday July 20th.
A niece of the deceased, Dr Ify Nwajei, yesterday shared the sad story on Twitter, alleging that the victim was killed by trigger-happy police officers, an account of the event that has been disputed.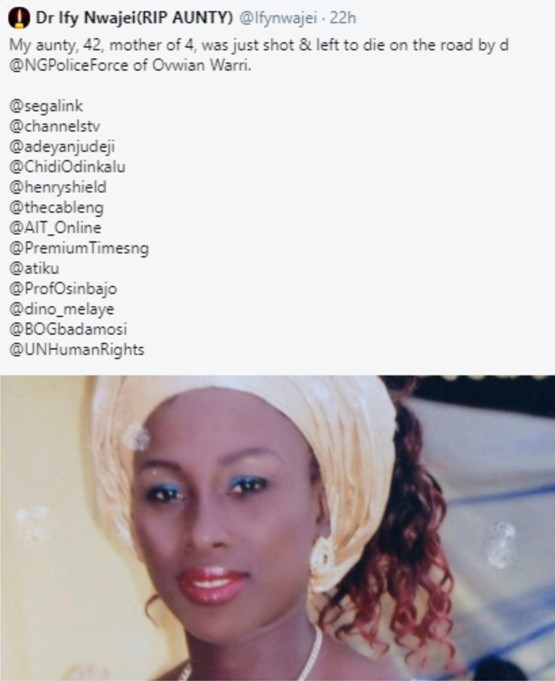 However, activist Harrison Gwamnishu who paid a visit to the Family house in Delta state yesterday July 21st, said the deceased was not killed by police officers but rather by suspected armed robbers. According to Gwamnishu, the deceased and her 9 year old daughter were driving home at about 9pm when they were flagged down by police officers carrying out a stop and search exercise.
After searching her car, the officers asked for the papers of her tinted Sienna bus. She gave it to them but they however asked for the permit for her tinted glass. She responded saying she did not have it and that she has been driving the car for many years without any of such requests. An argument ensued and the officers asked her to come down from the vehicle. One of them took over the wheels and drove it to their station, leaving the woman and her 9 year old child stranded on the road.
Mrs Dagbo and her child decided to take a Tricycle home and then return the next day to negotiate for the release of their car. Sadly, the tricycle they boarded was being operated by armed robbers who in their bid to snatch her bag from her, shot her dead, leaving her corpse on the road.
The deceased would have been a year older today July 22nd.
The police officers who had an encouter with the deceased have been arrested and are now being interrogated at the Burutu area command in the state.