Internet comedian, Mr Macaroni has reminded everyone that while the Nigerian Government is going after #EndSARS protesters, the armed thugs who attacked peaceful protesters are yet to be arrested.
He wrote: "Armed Thugs that came to disrupt protests were not arrested! Up until now, none of them is in detention. It is peaceful protesters they are arresting and intimidating. Pelumi Onifade is dead! Nobody has been arrested on that account! Una wan kill everybody finish abi? #EndSARS"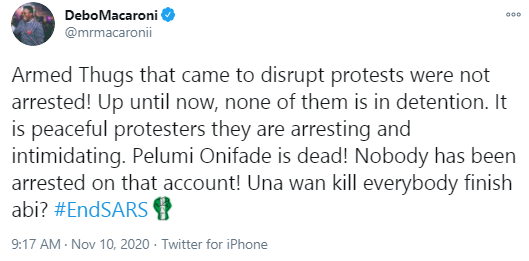 Recall that armed thugs conveyed in government vehicles were captured on camera attacking #EndSARS protesters in Alausa, in Lagos and Bridge in Abuja. The photos of the some of the thugs were shared online. But, arrest is yet to be made on the thugs alleged to be sponsored by Government officials.