US President-Elect Joe Biden has once again pledged to work to protect Americans from Terrorist attacks.
The former vice president who remembered the horrific ISIS terrorist attacks which happened in Paris five years, also pledged to work for the protection of American allies.
Taking to Twitter, Biden wrote:
"Today marks five years since the horrific ISIS terrorist attacks in Paris — an assault not just on the people of France but against our common humanity.
As president, I will work to protect Americans and our allies, countering terrorism and extremist violence in all forms."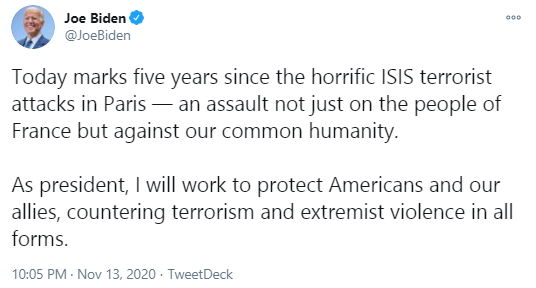 Biden and his team have gone ahead with preparations for transition even as President Donald Trump refused to concede defeat. Trump and his team continue to insist that there was high level voter fraud during the elections with no evidence to prove their claims.
Since US media called the presidential race, Trump refused to conceded to Biden as is traditional practice once a winner is projected.
Trump has filed lawsuits to prevent several key battleground states from certifying results claiming Joe Biden stole the election from him by performing voter fraud.