After so much anticipation from many ardent followers of the BBNaija Show, Ike and Mercy were finally caught rocking it under the duvet last night.
The couple spiced things up last night after winning N2m in the Munch It challenge they participated in with it other housemates. 
The couple tagged 'MerIke', also won dinner in a canoe and were treated to an in-house dinner by Biggie on Saturday.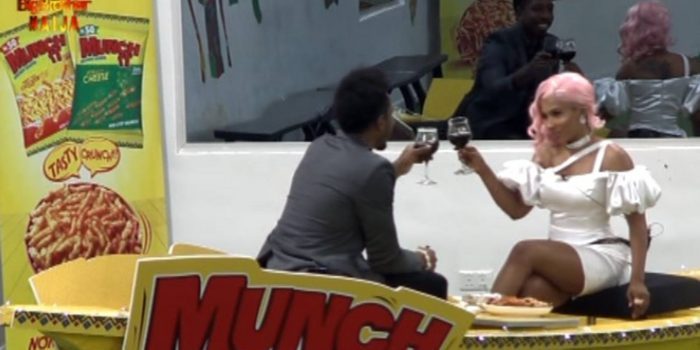 In what seemed to be their way of celebrating their big win, Ike was seen sucking Mercy's boobs in the dressing room. The act however left Ike with a huge erection. 
The couple however continued their "love making" in the sleeping room and stopped intermittently after Mercy could't hold back her "joyous sound as a daughter of Zion".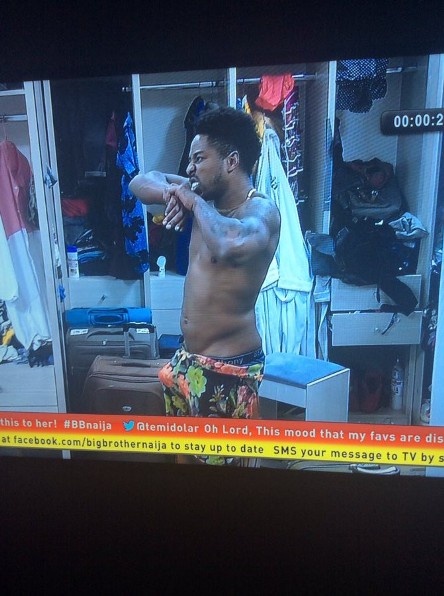 Here are videos below; 
It is worthy of note, however, that there has never been a season of the Big Brother show without some form of romance lighting up the scene and Big Brother Naija Season 4 is no exception. 
The first real couple to get over the line, were evicted Isilomo and Frodd but before their chemical reaction could yield any product Isilomo being the very first of the two to be evicted had to walk, leaving Frodd dry but not out.
Now, Gedoni and Khafi have not only crossed the line but rubbing it in the faces of other housemates, night after night. Even one of the couple is beginning to run on low fuel as complaint has been made. But notwithstanding, the flame of their passion has started a fire that may be difficult to put out.
Surely, Mercy and Ike got a thing going and other housemates know they are both off limits to others on account of their status as one indivisible entity. While the pheromones are running wild between Gedoni and Khafi, Mercy and Ike have kept it pretty much under wraps. But the quartet are the bonafide Romeos and Juliets in the house.
Diane and Tuoyo might have actually given us a juicy sight to behold but the flame just couldn't get ignited as Biggie tramped it out when Tuoyo had to walk. Esther and Nelson too almost got involved after some under the duvet exploits but it appears both don't have the guts to see it through. Or perhaps, Biggie is the killjoy again because after Nelson left Esther was moody for a week.
Now, everyone thought Seyi would have made a big move on Tacha after they got some quality time together in the 'secret room' during their fake eviction gimmick but it appears Seyi doesn't want to soil the Awolowo name in public. Mike too is another item that could have had a session on Tacha's timeline, but that too, just didn't pan out.
Big Brother show for all its criticisms has its bright and positive sides. Not all the romances have come to nothing. In 2004 Quinn and Jen got it going in the house and 8months after the show tied the knots for real. There was Mwisho annd Meryl in 2009, Kevin and Elizabeth too. And also recently, Teddy A and Bam Bam the alumni of Double Wahala BBNaija 2018 just got engaged, set to wed.