One of the great lessons the 2019 edition of BBNaija has left for many viewers of the programme is the character and personality of the first runner-up, Mike.
Mike was only few months gone into his marriage when he entered the BBNaija house. He is handsome, young, vibrant, yet stood true while living with beautiful, hot ladies in the house for 99 days.
Unlike other married men who participated in the show in the past, Mike have receive the praises of Nigerian for being a true gentleman.
A Facebook user, Alex Okonkwo, took to his page to share a now-viral post celebrating the married man. According to the post, infidelity is a choice and men are to be held responsible for deciding to cheat.
The post further stated that Mike respected himself, his wife and his vows despite being around several beautiful ladies in the BBNaija house.
He wrote: "Dear average Nigerian married men, hope you learned something from Mike O Edwards of BBN 4?
"Infidelity is a choice. You are responsible for what you do with your penis. You cheat or misbehave because you want to or you are a dog, not because you can't control yourself.
"Mike lived 99 days with different beautiful ladies of different sizes, complexion, height and shapes. He saw them in skimpy outfits, shared bathrooms and bedrooms with them, but not for once did we see his boner. Not for once did he behave inappropriately around any of them.
"He respected himself, his wife, his wedding vows and his brand, even though he knows our society would have made excuses for him or forgiven him easily if he had messed around with any of the girls in that house.
"Remember this when next you want to make silly excuses for philandering husbands or put the blame on wives of cheating men.
Remember this when next you justify sleeping with the house help, sister inlaw, colleague, neighbour, wife's best friend or your side chick.
"Like or hate Mike, he really set a good standard for married men in that house.
He made a point.
Man like Mike!"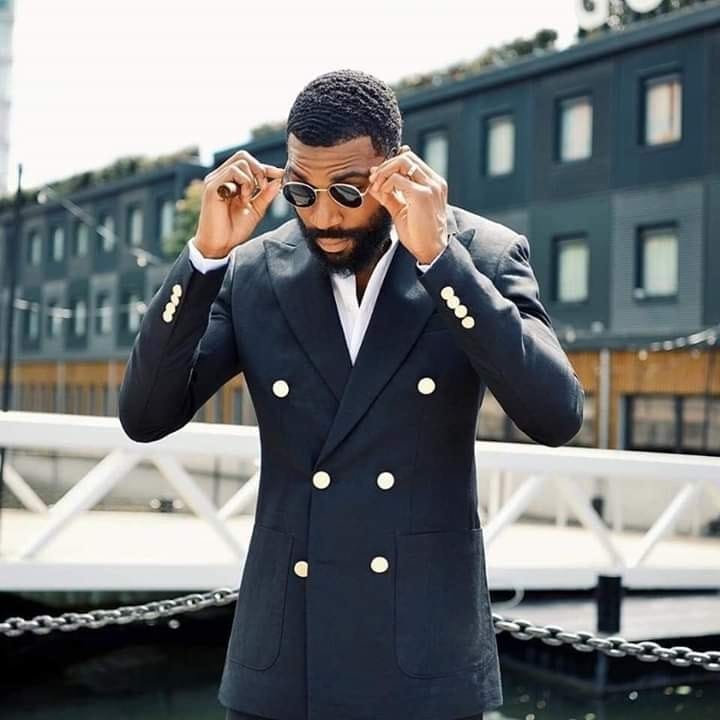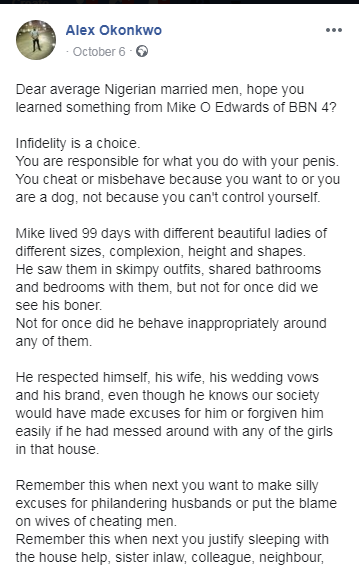 Similarly, Comedian, Seyi Law also wrote a poem dedicated to Mike. Read the poem below.
A MAN LIKE MIKE
Have you seen a real man?
Tall enough for every woman,
He is such an brilliance to behold,
He's gotten an impeccable character,
An amazing way to make you laugh,
He is so athletic,
You wonder what he lacks.
The world feared for him,
And hope he doesn't fall,
Trapped in the temptation,
For 99days to succumb.
Have you seen a man?
A man like MIKE.
He wasn't Thin Tall Tony,
Neither was he DeeOne,
He sure wasn't me at all,
He shared his truth from the beginning,
He said it loud and clear,
He seriously echoed it,
And the fear gripped us all,
He persevered through it all,
And cleared our doubt of his strength,
He offered lovely hands.
He made good connections,
He truly had fun,
And he didn't fail.
What a man, he is.
A man truly like MIKE
I can hear the bed rattling,
The vibration is quite unusual,
I didn't see it with my eyes,
But my imagination is weird and wild,
Fists clenched,
And bedsheet is rumpled,
Oh my God,
There is a woman beneath,
What a sigh of relief.
It is his wife after all,
99 days are long gone,
And they are back in each other's arms.
This is some sweet love,
Even Wizkid never thought of it.
A man I wish I was,
A man I should have been,
A man I can be,
A man like MIKE.
SEYILAW