The executive governor of Imo, Rochas Okorocha has presented the budget for the 2019 fiscal year. The budget which is tagged: 'Budget of Consolidation and Economic Stability' was present on Thursday at the Imo State House of Assembly.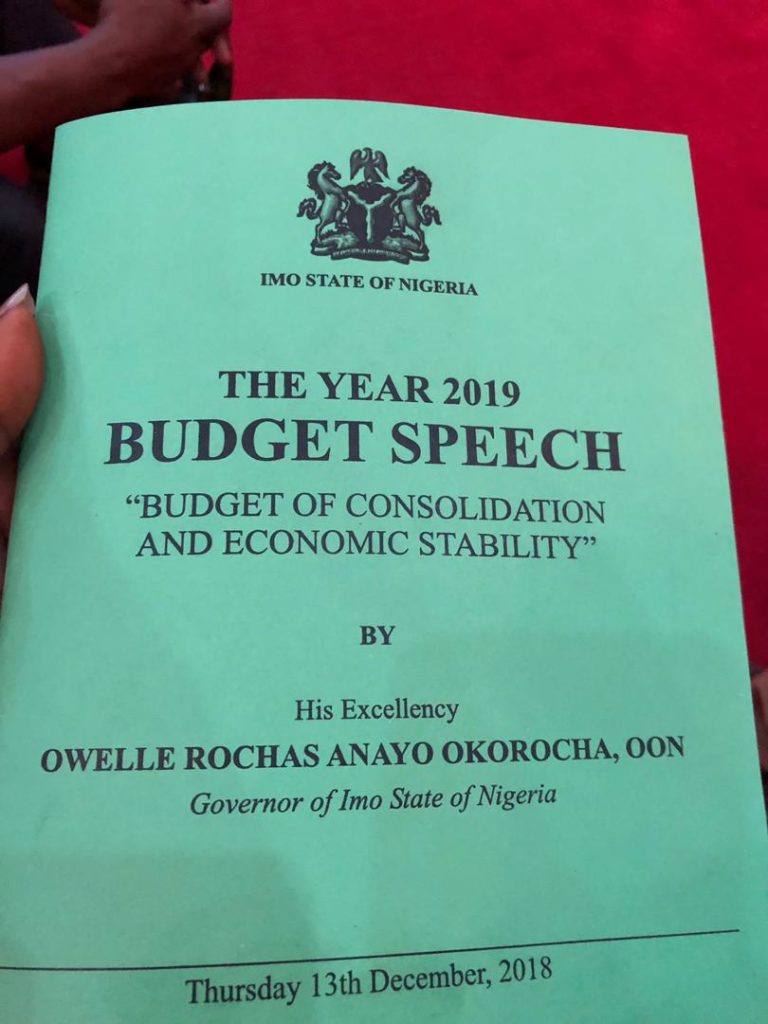 Below is the full press statement released by the Governor's chief press secretary.
GOVERNMENT OF IMO STATE, PRESS RELEASE
Governor Rochas Okorocha has presented a total budget of N276,818,071,812 (Two Hundred and Seventy-Six Billion, Eight Hundred and Eighteen Million, Seventy-One Thousand, Eight Hundred and Twelve Naira) for the 2019 fiscal year. And the budget was tagged, "Budget of Consolidation and Economic Stability".
In the budget speech which the governor read before the State House of Assembly on Thursday, December 13, 2018, a total of N214,641,699,585 or 77.54% is for Capital expenditure while N62,176,372,227 or 22.46% is for recurrent expenditure. The 2019 budget of N276b exceeded the 2018 budget which was N190b with N85b.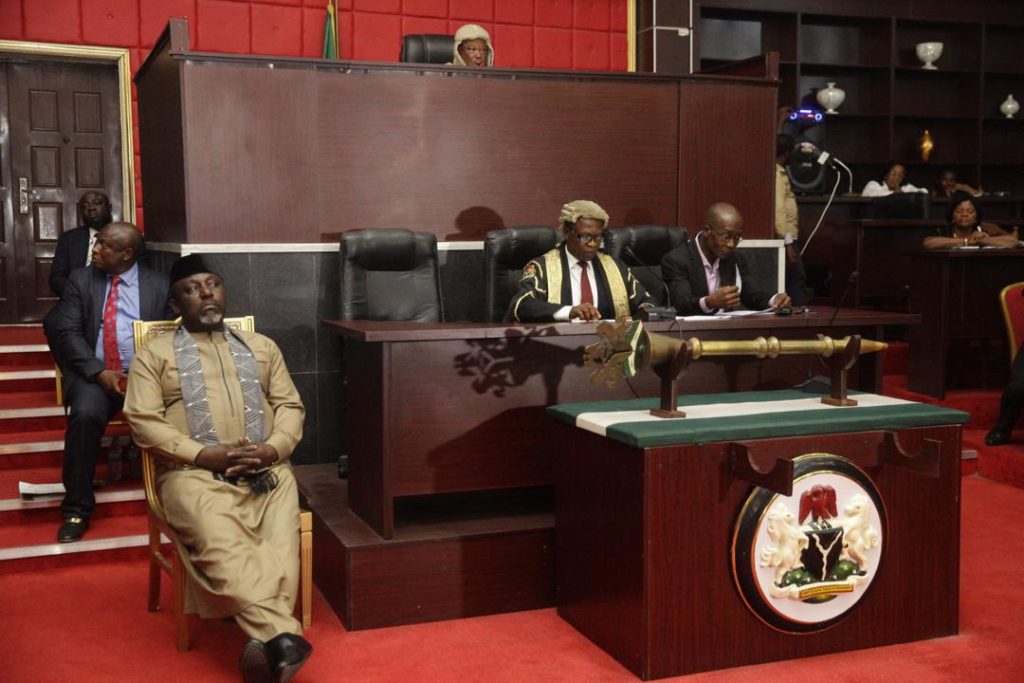 In the budget, the economic sector has N96 billion with Agriculture and manufacturing having N5b each, while Petroleum and Environment has N30 billion, and urban roads having N21 billion. N21 billion is also for Inter zonal roads. The social services sector has a total of N49 billion, with Health and Education having N20b and N11b respectively, while tertiary Institution and Technology got N10 billion.
The governor said that the government would strengthen all relevant agencies to gear up towards their Constitutional responsibilities to ensure that all programmes and projects are being monitored at all times for better results, adding that the government would achieve synergy through collaboration and integration of programmes and projects at all levels in order to realize the vision of making Imo better.
He stated "at this point Mr. Speaker and Honourable members, permit me to appreciate and thank the entire Citizens of Imo State for the support and Cooperation we received since our assumption of office in the last Seven and half years. I will also want to seize this opportunity to assure the good people of Imo that this government will continue to be transparent and accountable".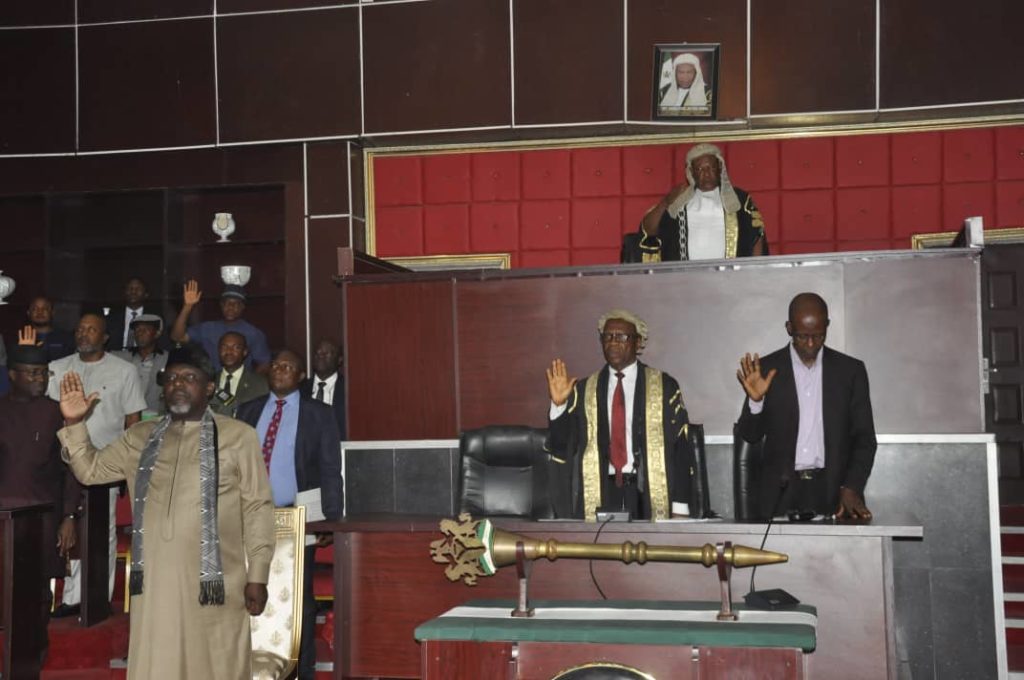 On the 2019 election in the State, the governor said "I cannot conclude this address without reminding the Honourable members that the forthcoming year is the general election for the Nation and the State in particular. And we are all living witnesses to what happened during the past elections, when the Political atmosphere was characterized by violence, intimidation and other vices that led to the inconclusive elections in the State,
"May I at this juncture call on all well-meaning and patriotic people of Imo State to continue to be law-abiding and continue to shun any anti-social activity capable of disrupting the current peaceful atmosphere in the State", he added.
His words "The Rescue Mission Government is mindful of the fact that sustainable development is not an easy task and has therefore maintained utmost level of fiscal discipline to achieve the desired fiscal stability which has translated to massive infrastructural development in the State. Our previous Budgets, anchored on Rescue Mission State Development Plans provided a suitable and realistic platform for the attainment of our development goals. It has given hope and practical support to our youths who are key to our prosperous future".
He Continued "Mr. Speaker, Distinguished Honourable Members, this administration has used the limited resources at her disposal to achieve maximum impact. We developed a strong synergy through collaboration and integration of programmes and projects at all levels to realize our vision of making "Imo Better". Today "A New Imo" has emerged".
Sam Onwuemeodo
Chief Press Secretary to the Governor