The head of Sudan's ruling council Abdel Fattah al-Burhan has announced the dissolution of the transitional sovereign dcouncil and the government, enacting a state of emergency amid a military coup that has also resulted in arrest of Prime Minister Abdallah Hamdok.
Members of the transitional government and other civilian leaders were also arrested following the military coup.
Military and civilian leaders have been at odds since long-time ruler Omar al-Bashir was overthrown two years ago and the transitional government set up.
A statement from the information ministry on Facebook said the detentions were carried out by "joint military forces" and those arrested were being held in "an unidentified location".
The officials said the detained included the industry minister Ibrahim al-Sheikh, the information minister, Hamza Baloul, a member of the ruling Sovereign Council, Mohammed al-Fiky Suliman, and Faisal Mohammed Saleh, a media adviser to prime minister Abdalla Hamdok.
Sudan's main pro-democracy group has called on its supporters to resist any military coup.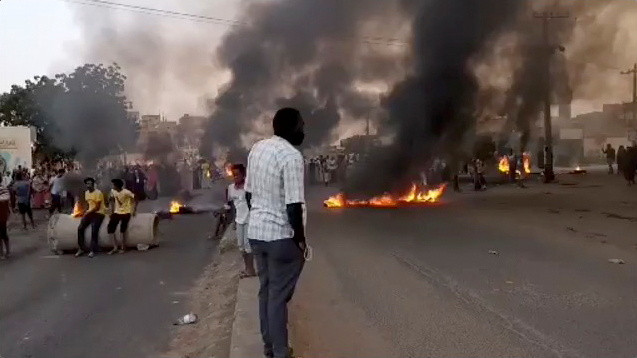 Witnesses have said the internet is down in the the capital, Khartoum, while images have appeared on social media showing angry crowds burning tyres in the streets.
The army and paramilitary have been deployed across the city, restricting the movement of civilians, a witness is quoted as saying by Reuters news agency.
Khartoum airport is now closed, and international flights are suspended.