The People's Democratic Party (PDP) in Imo State has slammed Governor Hope Uzodinma and his administration over the current power outage in the state and accused the governor of unleashed mayhem on Imo Workers.
In a state press conference by the party on Friday, May 5, 2023, the opposition party accused the Uzodinma of commiting series of "unpardonable atrocities" against Imo people.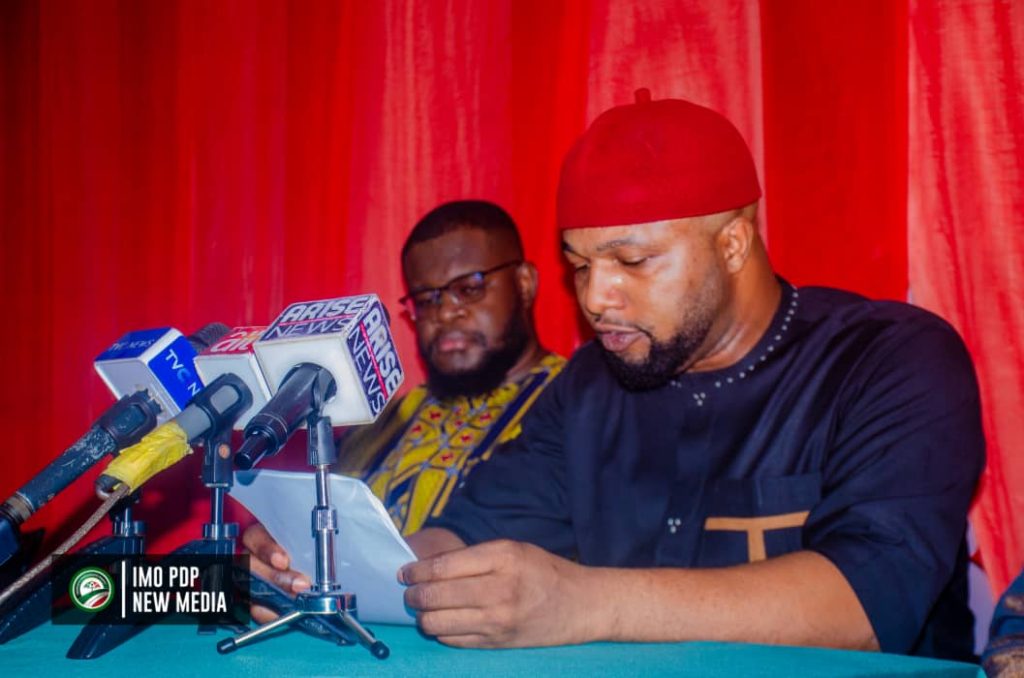 The party pleaded with Imo Workers and citizens keep faith and support the party to make sure that Uzodinma does not remain in office after the end of this tenure.
Below is the Full Text from the Press Conference
Text of World Press Conference on the Total Blackout and Shutdown of Imo State Caused by the Vicious Brutalization of Imo Workers, Incessant Harassment and Ruthless Attacks on the Members of the Nigerian Labour Congress and the Trade Union Congress by the Unpopular, Desperate and Outgoing Regime of Governor Hope Uzodimma
Good morning, Gentlemen of the Press.
We have invited you here today in keeping with our longstanding solidarity with the working men and women of Imo State, who have been subjected to the most primitive forms of oppression, deprivation, bellicosity, cruelty, violent attacks and misery by the widely-rejected government of Senator Hope Uzodinma in the last three years and five months.
This moment calls for patriotism and sincere reawakening of the core values which underlie our common humanity. Imo State has now witnessed a sharp descent into full-blown tyranny, where even the institutions of state have been debased and deployed for the total destruction of society and humanity. Nothing is sacred anymore. State-sanctioned shootings have been carried out in the House of God at Nkwerre.
Human life now means nothing in Imo State. Innocent citizens are slaughtered daily in cold blood just like rams, while those who have the responsible to protect lives look the other way. In most instances, agents and militiamen of the government have been generally accused of directly perpetrating the killings, like the brutal murder of fourteen wedding guests from Otulu at Awo-Omamma and the killings and bombings at the residence of Barr. Ikenga Imo Ugochinyere in Akokwa, and many others.
Today, Imo workers are not just denied their salaries, they are further brutally attacked, while aged pensioners are humiliated and flogged like beasts, even when their pensions are as well heartlessly denied. The journalist who had gone to film a protest by unpaid workers was beaten to a pulp by agents of this unelected regime right in front of the Government House. Recall that another journalist, a nursing mother, working with the government-owned IBC was sacked simply because she dared to request for her over one year salary arrears in order to care for her new born baby. This is heartbreaking!
If we, therefore, do not get up very urgently and fold up our sleeves to reclaim our land from the barbarity brought upon us by the anti-people government of Senator Uzodinma, we all may soon be consumed by the ongoing carnage and ravages.
Gentlemen of the Press, within the last two months, Imo State has been shut down twice. The Nigerian Labour Congress (NLC) and the Trade Union Congress (TUC) with other affiliate unions in the State have twice embarked on strikes. Aviation operations have been grounded twice. Electricity supply to Imo has been cut off twice.
Also, financial institutions have halted all activities twice, thereby crippling the economy of the State. As we gather here, Imo is in total blackout. All businesses have been strangulated. Imo has become a pariah state, cut off from the rest of Nigeria. This is catastrophic!
All of these have happened because of the satanic ambition of the government of Senator Hope Uzodinma to cow, muzzle, hijack and destroy the Organized Labour in the State so as to implement his scorch-earth policy of beating Imo workers and pensioners into submission by starving them of their salaries and pensions and all other sources of livelihood.
As we speak, eleven thousand (11,000) authentic Imo workers have been stigmatized as ghost workers and they are owed twenty (20) months salary arrears. These were people verified by the past administration of the PDP, and not a dime was owed to anyone by our government. A taboo is going on in Imo State.
Worse still, ten thousand (10,000) real Imo pensioners have also been classified as ghost pensioners, and the government has refused to pay them for twenty-two (22) months. This wicked act has led to the death of many of these senior citizens who served our state with their intellect, their skills and the brawn of their youth. These unpardonable atrocities were alien to Imo State when PDP was in power. Not a single pensioner was left unpaid by our government!
Further, the intimidation of labour union leaders and mindless use of thugs and other instruments of coercion against Imo workers have now been elevated to that status of state policy in Imo. During the March 2023 Delegates Conference of the Nigerian Labour Congress in the state, armed agents of the government went and unleashed mayhem on the innocent Comrades in the attempt to impose a weak leadership on the union. Yet, during the 2023 May Day celebration in the state, the same agents of the government invaded the venue and levied total war against the workers. Many were injured. This madness must stop forthwith!
The Peoples Democratic Party in Imo State stands firmly with Imo workers through these dark times. We are prepared to walk with them every step of the way to ensure that their rights and privileges are never trampled upon any longer by this dictatorship of the day. We urge them to remain strong and resolute, and never to yield to the shenanigans of this already-failed and outgoing government.
As a political party, we remain committed to our founding values, namely the creation of a free society underpinned by responsible governance, rule of law, respect for the rights of individuals and workers, and the creation of enabling environment for enterprise to flourish. Imo workers will soon have a breath of fresh air. That is our assurance. That we must do!
We therefore invite Imo workers, and indeed all Imolites, to join forces with us in our determined agenda and program already set in motion to unseat this cancerous government of Senator Hope Uzodinma on November 11, 2023 so as the take back Imo and make it safe again for everyone.
For your very generous attention, Gentlemen of the Press, I say Thank You.
Signed: Collins Opurozor,
State Publicity Secretary