A lady has busted a Nigerian Pastor, identified as Pastor Kassy Chukwu Oritsejafor for allegedly giving false testimony with stolen photos.
Pastor Kassy had shared a photo of a lady carry triplets and telling his followers on Instagram that he prophesied to the lady 2 years ago that she was going to have triplets and it has happened.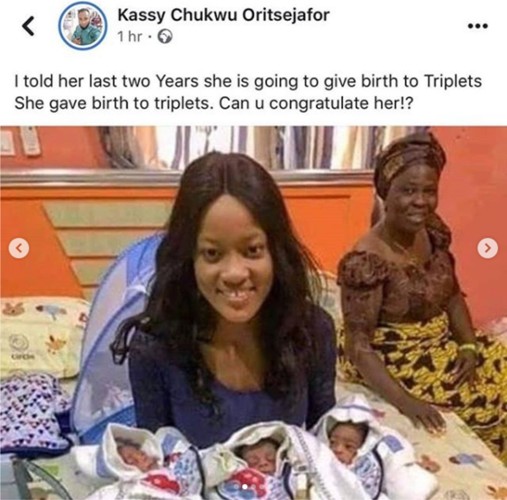 The lady who knows the owner of the picture used her Instagram account to bust the pastor. Read what she wrote below.
So this pastor felt he needed to fool his followers to validate himself. So i have an Instagram friend @queen_jane_ali. Whom her aunt just gave birth to triplets so she decided to celebrate on instagram . Only for one fake pastor to carry her picture to his status and saying, i quote "i told her last two years, she is going to give birth to triplets. She gave birth to triplets. Etc" this pastor Kassy Chukwu Oritsejafor check his status at the moment on Facebook you will see. Imagine i am a baby Christian now and i see this. God would have lost a soldier!!! It is well. And he is busy celebrating it on his status.