The CCTV footage of the suicide bomber who was responsible for St. Sebastian's Church explosion in Katuwapitiya has been released to the media.
The bomber was seen at around 8.56 am and at around 8.59 am. He enters the church premises carrying a very large backpack. 
The CCTV camera inside the Church also recorded the suicide bomber entering the church after touching a small child in front of the church. He then made his way through a door on the left side of the church before setting off the bomb which killed many including children.
It has also been revealed that two sons of a wealthy spice trader were part of the terrorists that carried out the multiple suicide blasts that have killed 321 people in the Sri Lanka terror attacks on Easter Sunday.
According to multiple reports, the Muslim brothers, whose names have not been revealed, blew themselves up as guests queued for breakfast at the Shangri-La and Cinnamon Grand hotels in the capital.
An investigation officer said they were in their late twenties.
One brother reportedly gave fake identity details when he checked into the hotel, but the other gave a real address which led police commandos to their family home in a commercial area of Colombo.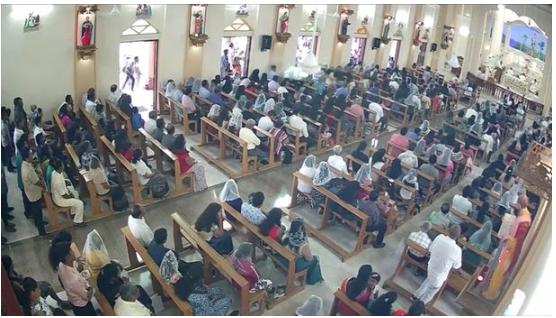 Police sources claimed that when the Special Task Force went to the house to investigate, one of the brother's wife set off a bomb, killing herself, her two children, and three police commandos.
'It was a single terror cell operated by one family,' the investigator said. 'They had the cash and the motivation. They operated the cell and it is believed they influenced their extended family.'
'What we have gathered so far is that they had indicated to their close family what they were going to do,' another senior police officer said.
'It looks like they were inspired by foreign terrorist groups, but to what extent they had direct links is still unclear.'
The brothers had been involved in their father's lucrative Colombo spice export business, investigators said.
The pair were key members of the Islamist National Thowheeth Jama'ath (NTJ) group, the official added.
Watch the video below.