Chimaroke Nnamani, Ex-governor of Enugu State, has made general accusations at various politicians and power holders, including Mr. Peter Obi, after he lost the Enugu East senatorial election to Labour Party (LP) contestant, Kelvin Chukwu. 
Chimaroke took to his verified Twitter handle to make several claims regarding the LP presidential candidate, Peter Obi.
According to the former Enugu State governor, Peter Obi "has set the Igbo political trajectory 24 years back." He also claimed that Obi has 'wickedly and dangerously' served a "devious opium" to both Christians and Igbos scattered all over Nigeria. 
Chimaroke additionally barracked the apex Igbo socio-cultural group, Ohaneze, claiming that they have acted with miscalculation.
He wrote:
"These Igbo leaders including "Asoebi" Governors quite unlike my '99 class. They danced while Igbo Land burnt. They lacked the " Liver"to condemn "sit at home" nor condemn the killings. They cowered at Peter Gringory Obi message of hate,bile and incitement. They failed!
"The Oha Na Eze.Grown elders who kept quiet while the goats labored tethered will live to regret their political miscalculations. As Governor, I knew they were essentially inert. Coming to Enugu at long weekends to catch fun with young girls in the guise of "Nkpuke".
"Peter "Gringory" Obi has set the Igbo political trajectory 24 years back.He has become a twin Blight &Scourge on the Land.His devious Opium served to Christians within sections of Nigeria and to Igbo domiciled in different sections of Nigeria is wicked and dangerous. 
"Governors,LG Chairmen failed 100 percent.Ordinary water unavailable in cities.Unemployment, Pollutants and "Rubbish " living house to house in competition with our people.Massive public neglect gave fertile ground for Peter Gringory Obi to plant his message of Hate.
"Igbo leaders watch as vulnerable and ignorant Igbo youth bait other Nigerians. Hostile to their host communities.Doing business in Lagos and describing it as " No man's land"Politically displacing the Gwari the owners of FCT and yet doing business in their land.
"6 million votes! What next?A trophy for Mr Obi. He has to go to school to learn good manners on living with neighbors. Building confidence and trust.Not abuse,threat and divisive language.Christians against Muslims. Igbo against fellow Nigerians."
Read his tweets below.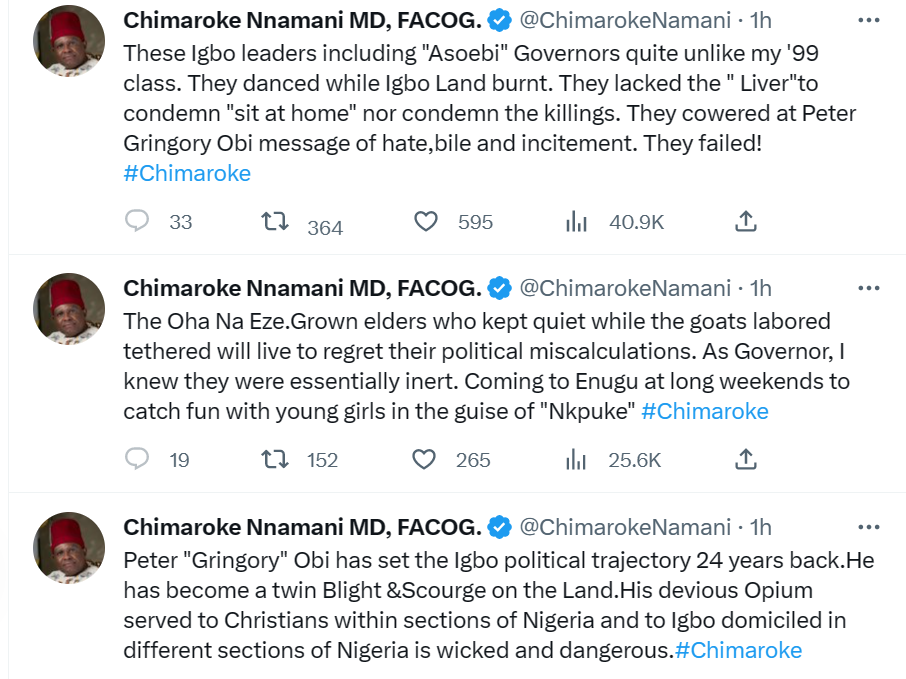 Nnamani Chimaroke's Twitter post