Nollywood actor and Lagos State House of Assembly Member, Hon Desmond Elliot has spoken about how he manages his career as an actor and his role as a lawmaker and politician.
Speaking to Premium Times, the 45-year-old actor turned politician revealed that though he does not act much any more, he ensures that his company still produces movies.
"I don't actually act as much, but I'm actually behind the scene and behind the camera."
"The reason why I do this is that I don't want to give the impression that 'I don dey where money dey and I don forget them' (I am now in riches and I have forgotten Nollywood)''.
"At the end of the day, you must fall back to something. So, I'm still making sure that Nollywood grows. I'm not necessarily acting but my company still produces movies, I ensure it happens."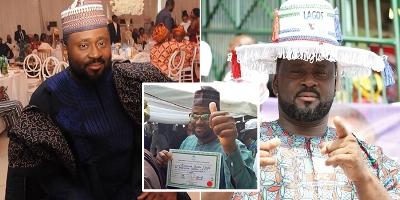 Speaking on his political roles, he noted, "To be quite honest, even the political world is demanding so, I do less of entertainment things now. This is because even politically I have to grow, now this is my second term. I'm not hoping in my third term I want to remain like this, 'me sef go wan go up' (I want to move higher).
"That means for that to happen, I'll have to learn the ropes better. For instance, I'm currently running two masters programmes, one in Business Administration and the other in Social Studies. I must 'sharpen' my brain, and then politically, I have to be very involved."