An interesting argument ensued between some Nigerians on Twitter and the official Twitter handle of the Economic and Financial Crimes Commission (EFCC), over why prosecuting agencies continue to unlawfully parade suspects who are yet to be convicted, or even tried in a competent court.
It started when popular Nigerian rapper cum activist, Michael Ugochukwu Stephens, known professionally as Ruggedman, took to Twitter to lodge a complain about the property of a young producer which are still in the custody of the EFCC.
Ruggedman wrote:
"Hello @officialEFCC , Hows your day going? I have a small matter I will like to dm you about. Its a young producer who was arrested by some of your men when they raided a hotel he was working in. He has been cleared n released but his car & other properties are with u."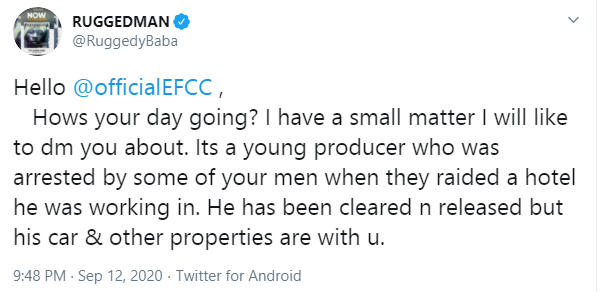 Another Twitter user, @MrSeunLawal, then replied by faulting EFCC's method of parading suspects in the media and not returning to the media to clear the suspects.
@MrSeunLawal tweeted: "One of the main reasons why this commission has to change the modus of parading everyone one as suspect. No mention in the media of those cleared to counter the display of the paraded suspects."
However, EFCC replied Seun Lawal by saying that only suspects that have been profiled with evidence are paraded.
The Agency wrote: "Kindly note that the EFCC only parades suspects after they have been profiled with evidences gotten from investigations."
But another Twitter user, Chidi Odinkalu, countered the EFCC, pointing out that "Parading of suspects is unlawful under jurisprudence of Nigerian courts"
He added: "It is not ur role to "profile" suspects but to prosecute them to completion of trial. Courts decide"