The Atiku's campaign council has warned the G-5 governors to reconsider their decision against endorsing presidential candidate Atiku Abubakar for their own good.
This warning came as a result of the resolution made by the G-5 governors, which is led by Governor Nyesom Wike of Rivers State and comprises additional four state rulers, namely governors Samuel Ortom of Benue State, Seyi Makinde of Oyo State, Okezie Ikpeazu of Abia State and Ifeanyi Ugwuanyi of Enugu State, to reject Atiku Abubakar as the next president and to announce their preferred presidential candidate to support ahead of the 2023 general election.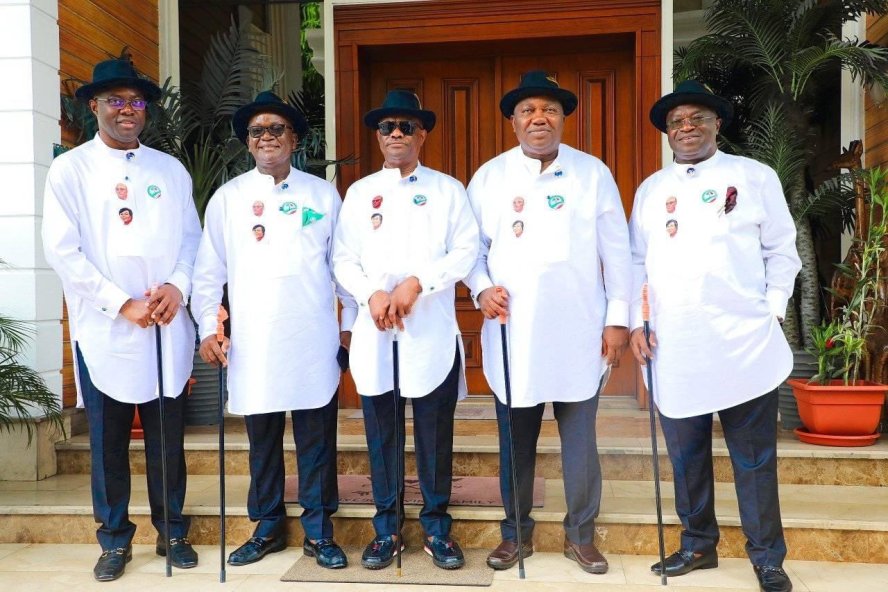 Reports showed that the G5 governors made their decision to support either Bola Tinubu of APC or Peter Obi of Labour Party in unison.
This decision has caused many in the political system to react, and a significant statement has been released the spokesman for the PDP Presidential Campaign Council, Dino Melaye. In his statement, he warned the governors about their possible fate should they dump Atiku for an opposition candidate.
Melaye threatened that Wike and the other G-5 governors would end their own political careers if they insist on rejecting Atiku.
He stated: "No blackmail, hate, or outrageous envy will stop Atiku. I pray it is not true (G-5 governors' imminent endorsement of their preferred candidate).
"Attacking Atiku will cost them their political future. You don't fight a man who has done nothing to provoke you. Atiku's only offence is that he won a presidential primary transparently and openly. No man should play God.''
According to the Punch, Melaye was sounding confident about the high chances of Atiku winning the elections, and adding that the G-5 governors should have a re-think while there is still time to do so.
Melaye also noted:
"Atiku will be president because the people have decided. My advice to the G-5 is 'don't end your political career because of an inordinate ambition and capricious manifestation that will yield no result.' If they take that step, it will be the last kick of a dying horse."
Another spokesman of the PDP Campaign Council, Daniel Bwala, noted that the 12 million votes to President Muhammadu Buhari from the North often garnered at every election he participated in, and are now in the bag for Atiku in 2023.
Bwalla stated: "If you don't know, Atiku has inherited the 12m votes of Buhari already. When you add his 8m plus the 12m, Atiku is already coming to the election with 20m votes.
"Haven't you seen that the PDP was the first to inaugurate a campaign council; the first to commence a campaign, and the leading party in terms of coverage and impact? And we are presently closing in on all the zones."