The representatives of Mbieri Nwaotuoke Union led by Deacon Chuma Okwodu paid a courtesy visit to HRH Eze V. I. Achilike, IHIERI II, at his palace in Umudagu Mbieri, on Saturday, December 24 to brief the traditional ruler about the forthcoming Emume Mbieri 2022.
Emume Mbieri is a festival of Culture and Tradition of ndi Mbieri ancient clan in Mbaitoli LGA, Imo State.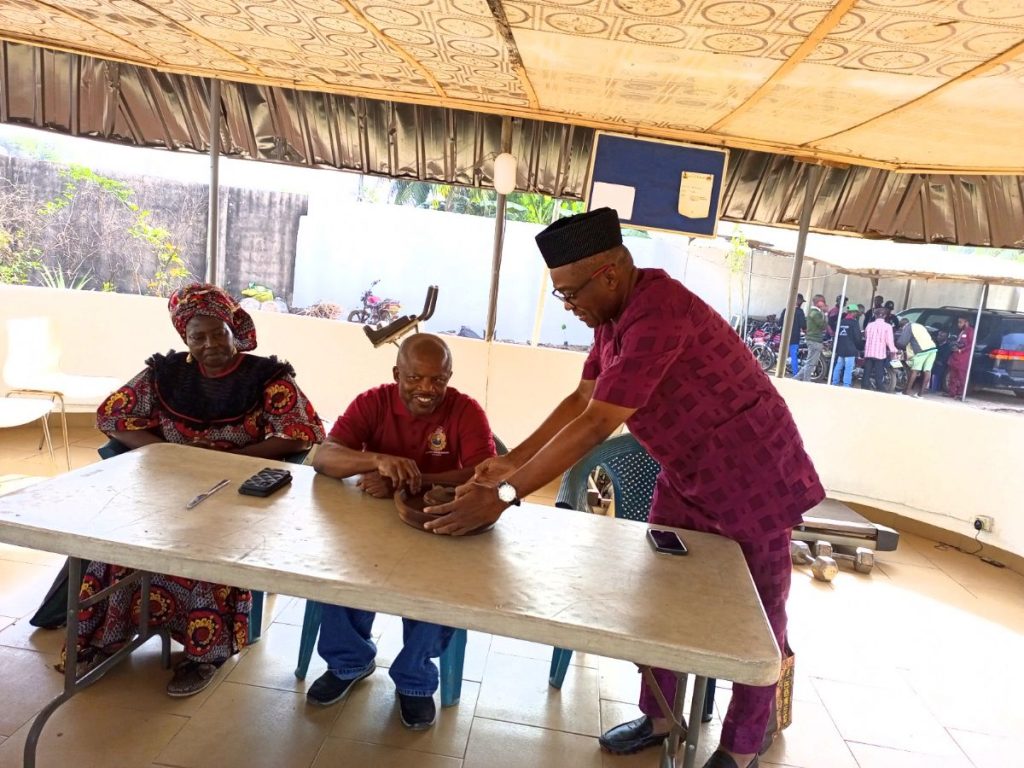 Recall that a couple of days ago, the Union, in a press conference organized in Orie Mbieri informed members of the public that all is set for the 2022 edition to place on December 30, 2022 at the Orie Mbieri central square, as planned. Read more here.
Speaking on behalf of the delegation, the President-General of Mbieri Nwaotuoke Union, Deacon Okwodu gave Eze Achilike the run down of activities that will feature on Emume Mbieri 2022, which includes a colloquium on Mbieri history, exploring the questions of Opara Mbieri and process to codify Mbieri history, culture and traditions.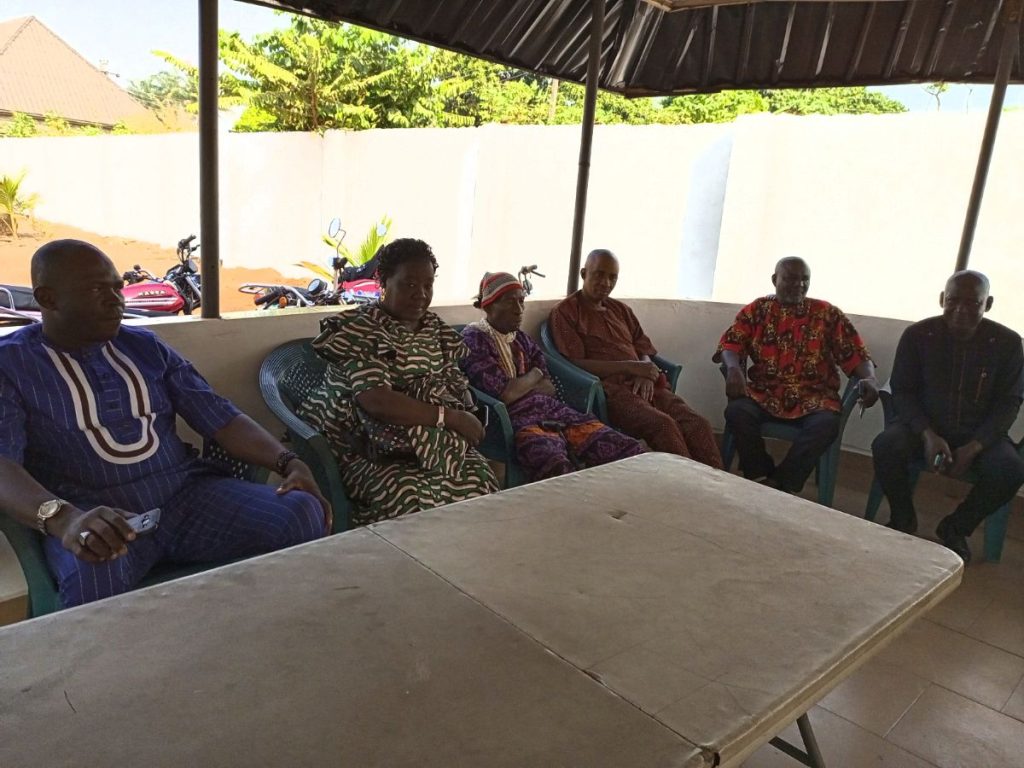 The PG also informed the revered traditional ruler that the Imo State Governor, Senator Hope Uzodinma will be Special Guest of Honour of Ememe Mbieri 2022 and will be taken round the clan to see for himself the bad state of Mbieri roads so as to work towards a speedy rehabilitation of the roads. He added that the event will be chaired by Chief (Dr) Emmanuel Iwuanyanwu (Ahaejiagamba ndigbo).
Deacon Okwodu expressed optimism that in no distant time, the Emume Mbieri will not only be a widely celebrated festival in Imo State, but also in Nigeria at large.
Addressing his visitors, Eze Achilike commended Mbieri Nwaotuoke Union led by Okwodu. He was happy and declared his unwavering support on the efforts being made to codify the Mbieri history.
According to Eze, "We must to continue to work to sustain our culture and traditions so it can outlive our generation."
He went on to state that ndi Mbieri are hard-working people who work towards development of communities which is why Mbieri people, whether at home or anywhere in the world, have never been known with negative stereotypes like fraudulent behaviours or stealing.
Speaking on the roles of traditional rulers in Mbieri, he said, "Our primary duty as Ezes is to bring peace into our communities. Where there's crisis, we should step in to fix it, not go to a place there is peace and cause problems.
He added that a traditional ruler of value must be a problem-solver.
He also admonished Mbieri Nwaotuoke not to discriminate against any nwa Mbieri, especially during this period of Emume Mbieri, but to carry everyone along.
The delegation thereafter presented the Emume Mbieri wrapper to Eze Achilike.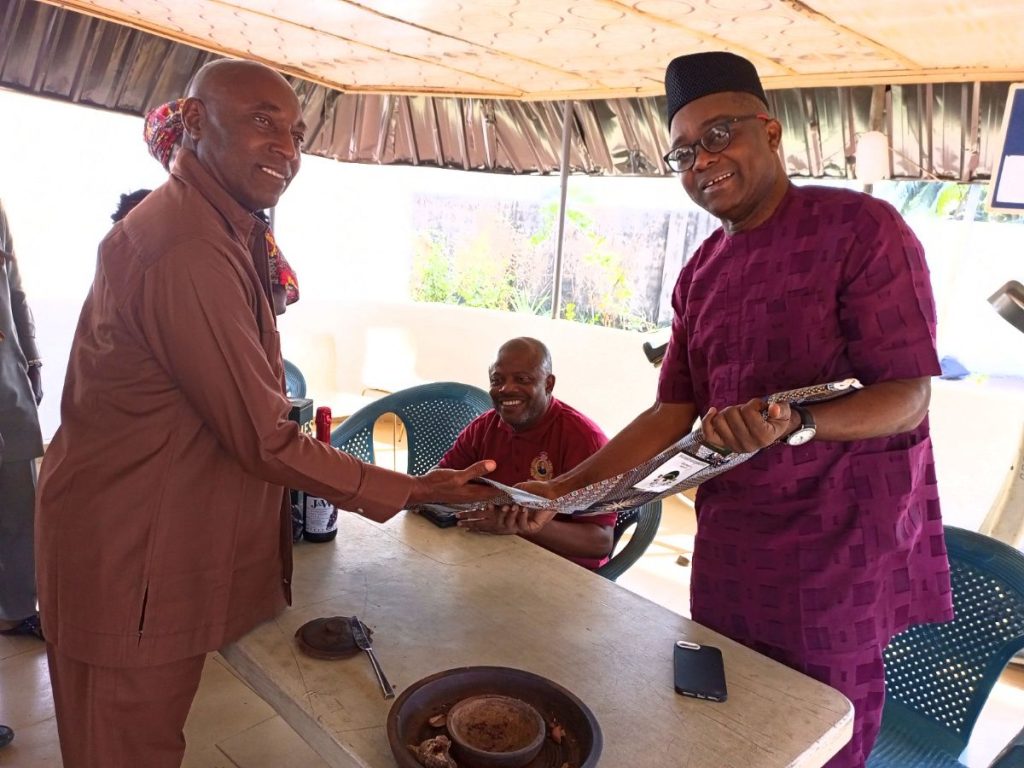 Also part of the delegation is Dr Happiness Nosiri, Secretary of the Central Planning Committee of Emume Mbieri 2022.
Others in attendance include Comr Ken Duruji, Mr Emesiebi Onwu, Hon. (Mrs) Juliana Oparaeke, Engr Kenneth Udunwa, Mr Jonathan Oriaku, Chief Jacobs Ndukaku, Comr Steve Nnadi Ezefune and Hon Ngozi Clara Opara.