Senate leader of the United States of America, Elizabeth Warren has called for the US to stand with the Nigerian people over the #EndSARS protests to demand justice for the victims of police brutality.
This comes as prominent world leaders and personalities continue to express concern of the lekki shootings.
Senator Elizabeth Warren in a statement on Thursday evening said,
"Nigeria deserves a government that works for all of its people, confronts corruption, and ends police brutality. The US should stand with Nigerian people peacefully demanding justice and equality," she said.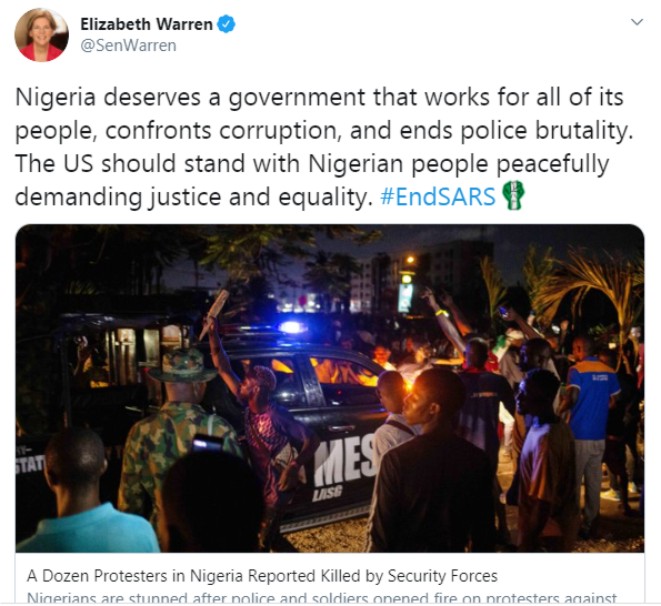 Warren joins the Canadian Government that announced that those responsible for human rights violations must be held accountable, as it is concerned about the excessive use of force on protesters during the #EndSARS protests.
The UN High Commissioner for Human Rights, Michelle Bachelet, also condemned the use of excessive and disproportionate force against protesters by the Nigerian Armed Forces in Lagos on Tuesday evening during the Lekki Toll Plaza shootings.
"While the number of casualties of yesterday's shooting at the Lekki toll plaza in Lagos is still not clear, there is little doubt that this was a case of excessive use of force, resulting in unlawful killings with live ammunition, by Nigerian armed forces," Bachelet said.