Mr Afolabi Imoukhuede, Senior Special Assistant (SSA) to President Muhammadu Buhari on Job Creation, says the extension of the Batch 1 of the N-Power scheme for 200,000 volunteers beyond the November 2018 deadline has no political undertones.
Imoukhuede made the clarification while featuring on 'Guest of the Week' on OSRC TV on Thursday in Akure,  Imoukhuede dismissed reports that some of the volunteers had threatened to vote against the government in 2019 should they be dropped, saying the extension was a benevolence on the part of the government.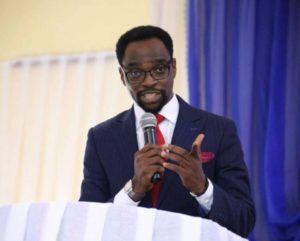 "Nobody can threaten the government, even those we had exited from the programme because of some sharp practices could not threaten us. The extension had no political coloration. The purpose for which we designed the programme was to enhance their transition and since those for whom we designed it still have issues, we need to tidy up all loose ends which is what the enhancement intends to achieve," he said.
The SSA expressed satisfaction with his interface with over 14,000 volunteers in Ondo State who vowed to support the next level agenda of the present government. According to him, the volunteers have proven to be credible assets to drive President Muhammadu Buhari's re-election.
"The interface was a coming together of the volunteers who wanted to show their appreciation to the president and his Vice, Prof Yemi Osinbajo and they made a good show with that. I was enthused with what I saw at the interface with Ondo volunteers and fully appreciative of this. We are taking this campaign to other states."
"Now we know we have credible assets who are very grateful for what Mr President and the vice president have done and think they deserve re-lection which is why they have decided to sign on to the next level," he said.
Imoukhuede, who is also the national coordinator of the N-Power programme, explained that the extension was to smoothen their transition for permanent job placements and opportunities.
He clarified that the N-Power scheme was to harness Nigeria's young demography through appropriate skill development, provision of relevant work skills acquisition and development, and linking outcomes to fixing inadequate public services.
"Some of them are already good entrepreneurs, like Gbayisemore here in Ondo, who doesn't want any other job, but just to build his business. Iyenche in Ijebu, and many others like that. So, let's begin to catch young entrepreneurs, let's begin to patch those who actually want to continue informal jobs.
"Let's also continue to patch up those who want to be able to earn in two or three places which we call freelance, so they don't want any contract to one person," he said.
No fewer than 500,000 volunteers are currently part of the two batches of The N-Power scheme, a Social Investment Programme, SIP, of the ruling All Progressives Congress (APC). Participants are engaged in different areas of public service, including education (N-Teach), health (N-Health), agriculture (N-Agro), building/construction (N-Build) with a monthly stipend of N30,000.