The Federal Government has revised quarantine protocols for all international travellers.
In the revised protocol, travellers are required to conduct a mandatory COVID-19 test within 96 hours before departure.
Also, they are expected to repeat the PCR test seven days after arrival.
The COVID-19 Presidential Task Force Team made this known on Tuesday via its Twitter handle.
"Revised Protocol: All International travellers arriving Nigeria must conduct a mandatory COVID-19 PCR test within 4 days (96 hours) before departure," it tweeted.
Earlier, travellers – except those from United Kingdom and South Africa – are expected to conduct a mandatory PCR test within 120 hours before departure.
"All intending travellers to Nigeria must have tested NEGATIVE for COVID-19 by PCR in the country of departure pre-boarding," part of the protocols on its website read.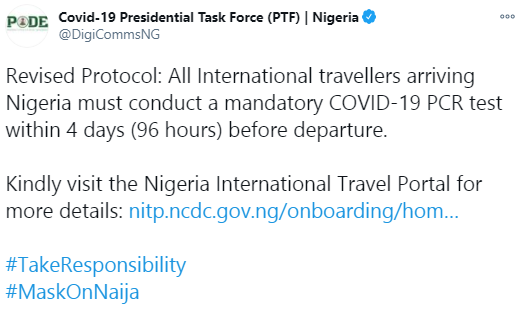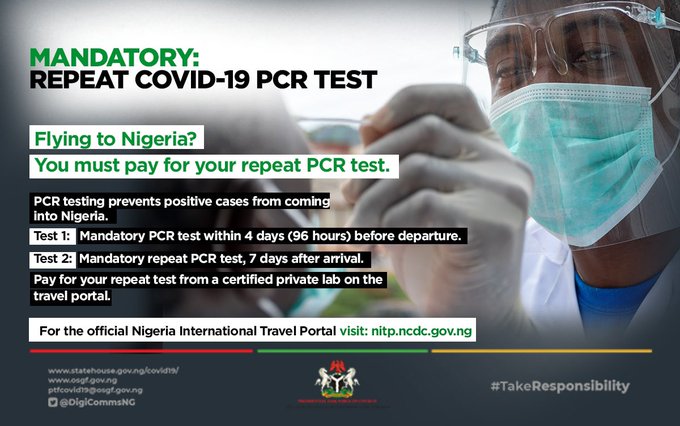 Giving details on travellers from South Africa and UK, it said, "This provisional quarantine protocol is an update to the earlier released quarantine protocol of 18th September 2020. Prior to boarding for Nigeria, passengers departing from the United Kingdom and Republic of South Africa MUST present TWO documents at their point of departure to be allowed to board; a negative COVID-19 PCR test administered within 4 days (96 hours) of departure.
"Airlines have been directed not to board passengers with non-PCR COVID-19 tests (such as antigen/or antibody tests), positive COVID-19 PCR tests or tests performed beyond 96 hours of boarding.
"Permit to Travel certificate/ QR code showing evidence of having paid for the day 7 COVID-19 PCR in-country test prior to boarding. The certificate can be generated from the Nigeria International Travel Portal on completion of a health questionnaire, uploading of a negative COVID-19 PCR result and payment for the repeat day 7 COVID-19 PCR test at day 7 of arrival in Nigeria.
"All passengers arriving Nigeria MUST self-isolate for 7 days at their chosen place of abode, self-monitor for symptoms of COVID-19 and thereafter proceed for a COVID-19 PCR test.
"Passengers can exit self-isolation on receipt of a negative COVID-19 PCR test performed at day 7 of isolation.
"Children less than 10 years old do not require a COVID-19 PCR test pre-boarding. Diplomats are required to present a negative COVID-19 PCR test pre-boarding. Children less than 10 years old and diplomats are not required to pay for the in-country day 7 COVID-19 PCR test."