The richest man in Africa, Aliko Dangote responded in an interview to Shatta Bandle, popular Ghanaian Instagram celebrity who claims to be richer than him.
"I can not compare myself to anyone in terms of wealth. If anyone claims that he is rich than me, I do not see any harm in that. I'm not competing with anyone," Mr. Dangote said.
He also added that the most important thing is "I have my things and I'm happy with what I have. I have nothing to prove to anyone. I never looked at me. I have been recognized for the work I have done."
Shatta is famous for making funny Instagram videos in which he flaunts Dollar notes and often claims to richer than Dangote and all the rich men in Nigeria. In one of such videos, he said: "Dangote is my kid when it comes to money,"
The African site Culturebène noted that he is a friend of a rich Ghanaian businessman and that it is with the money of the latter that he makes his buzz.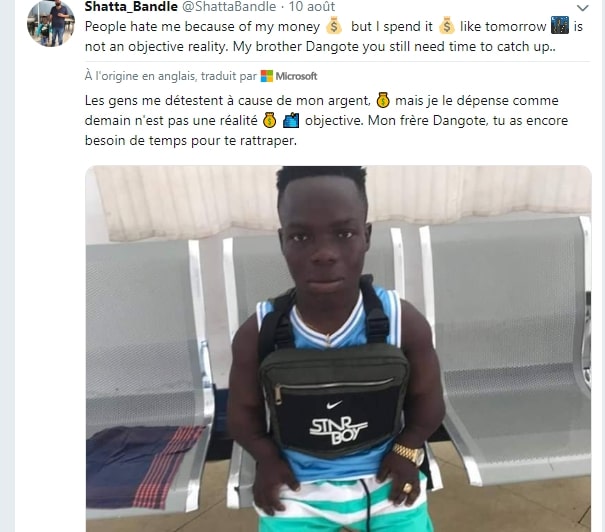 Shatta Bandle, whose real name Idrissu Firdau is from Ghana. He is suffering from dwarfism. Yet, he has added to the many available proofs that there is ability even in obvious disability.
He was born in Karaga, a small town and capital of Karaga District, in the northern region of Ghana.