These photos show Abdul Isa, a fourteen year old boy, resident in gangare metropolis of Jos North LGA of Plateau State who was brutally beaten  by his uncle for stealing a neighbor's money summed to be N3,000.

According to Amama Benedict who shared the story on Instagram, 'the said money was retrieved from him and given back to the owner'.
In my (@jossybliss) chat with him on his hospital bed where he's receiving treatment, he narrated the incident to me in hausa language.
As a result of his condition, he was not accepted at the Plateau State Specialist Hospital, he was taken to a private hospital where he's being treated.
He has stitches on his face, and swellings as a result of the assault on him.
My question is, why treat this young lad like a hard core criminal when you're meant to be a father to him, seeing he lost his father at a tender age and also without a mother ?
What do you expect of a young boy as Abdul who has not been to school all his life but the street as his favorite spot? I want to call on all relevant authorities to ensure Abdul Isa gets justice for this inhuman act perpetrated on him.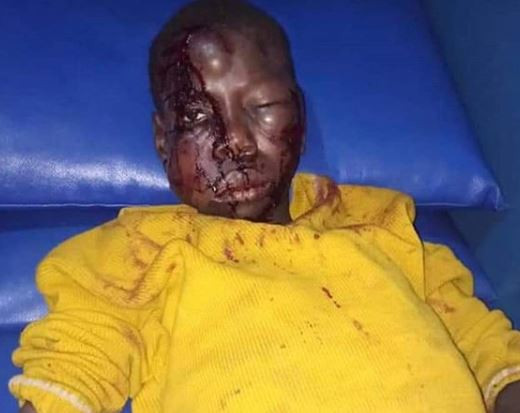 The perpetrator is in custody of the Nigeria Police Force C Division in Jos North LGA of Plateau State. I really commend the effort of the inspector who insists on the boy's healthy recovery and justice for him too.
And to the Doctors and Nurses who are up and about to see Abdul regain himself fully, I say kudos to you all. I feel the pain of this young lad,who was all teary as I conversed with him.
I don't think he deserved this ill treatment meted on him by his uncle, let this serve as deterrence to everyone manhandling children in this manner. If you can't love them and treat them right ,or correct them as ought to, please leave them alone… Do unto them as you would want others to do yo you!