Emmanuel Chika Madubueze on Wednesday, staged a one-man protest outside the Army Barracks in Port Harcourt,  Rivers State, to demand justice after he was hit by a stray bullet fired by a soldier on his way to school in 2017.
The incident led to his left limb being amputated. The soldier was eventually arrested. The Army  pleaded with his family to settle the case out of court and offered to pay one million Naira for his medical bills. However, two years later, the Army is yet to fulfill their promise or pay heed to his plight.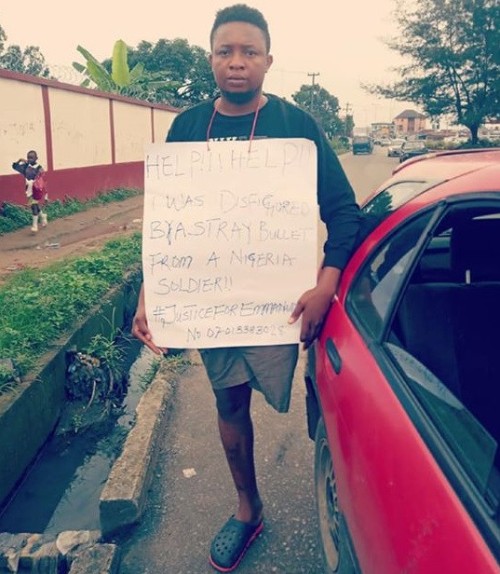 Taking to Twitter on Thursday, Emmanuel, who currently uses clutches, is urging fellow Nigerians to help him get justice.
"Today I Went On A One Man Protest On The Street Of Portharcourt Close To Bori Camp Rumuola By Aba Road, Right In Front Of Port Harcourt Army Barracks To Demand For Justice And To Let Nigerians  Know That It'S Been 2years  Ever Since I Was Hit By A Stray Bullet"
Emmanuel's mother also said she has spent over two million naira on his treatment and has received only N10,000 from officers of the Nigerian Army.
See some graphic photos that capture Emmanuel's ordeal below.