Indeed, being a parent has being exciting, nourishing and emotional for Nigerian actor, Jim Iyke. The actor who just welcomed his second baby, almost wept at the airport when he was about to part with his son and his mother.
Jim Iyke who was on his way to Paris after spending some quality time with his newborn son mentioned that though it was hard to let go, he had to get back to business and will be back in few months.
The Actor  then chipped in that he would surely cry for some moments when he get on board, while enmeshed in the thought of the love he has for his family.
Read what he wrote below.
A man is not supposed to cry. I believe it principally. Kids know with a certain primordial instinct beyond logic when there's a parting. My guy started bawling for no apparent reason. I gave him a warm bottle at the airport, kissed him and his mama and walked away abruptly.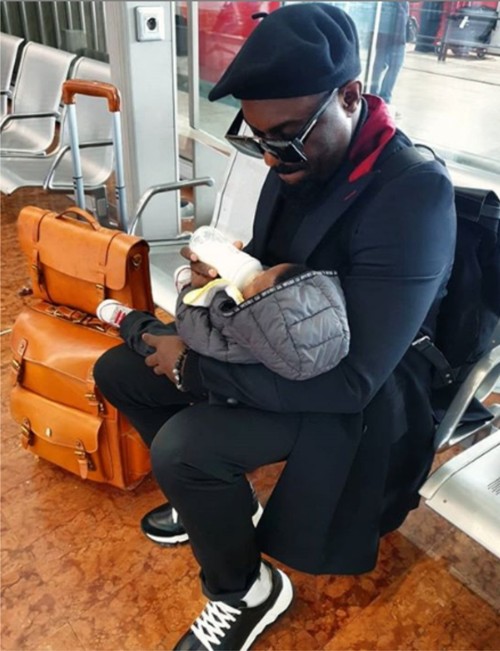 I'm gon hold myself together till I'm in the comfort of my seat then I'll cry quietly for 20 mins. I hv my oversized shades to obscure suspicions, no worries…..Then I'll order a stiff gin and tonic and mentally calm down as I've trained myself to do.
See u in a couple of months my guy. Apparently, Papa is not as strong as he deemed this particular principle.
Love is stronger.
Back to work. Back to my regiment to get rid of the daddy weight …
Wish me safe flight guys.
God bless.

See more photos of the actor cuddling his son below.