The sad story of a family who thought their son died five years ago has been shared by a twitter user with the username @tobijulo91 who revealed that the young man was later found in prison.
The Twitter user narrated that young man went out to buy suya at night, got arrested by policemen who arrived the street on random arrest and was subsequently wrongly imprisoned without access to reach his family.
While reacting to a tweet by @Jollz complaining about Nigeria's failed justice system, @tobijulo91 narrated the sad tale.
Read his full story below;
A former colleague told me how her cousin went out one night to buy Suya down the street and they didn't see him again. They searched everywhere, couldn't find him. Year 1 passed, year 2, year 3, I believe it was in year 4 they decided to declare him dead and "buried" him.
Year 5 her mum gets a call, a church had done an outreach in a particular prison and a young man threw a sheet of paper with her mum's number on it. He begged the people to call that number as it was his Aunt's and he was wrongly imprisoned. Luckily for him they did and her mum went to that prison and that's how they discovered he was alive o.
After another set of wahala they finally got him out. Man was in prison for 5 years!! What happened that night?? He went to buy Suya, there was an incident, police raided the street and carried EVERYONE. He begged and tried to convince them that he wasn't a criminal, they didn't listen. He was transferred 5 times to different prisons. 2 times to the North and once to the east.
What he saw in prison ehn? The politics? From killing inmates because no space to wardens selling prisoners to organ traffickers. He acknowledged that it was God that kept him because he shouldn't be alive. My colleagues mum was so upset and was even able to get 5 more people who were unjustly arrested and acquitted without trial released. See ehn Nigeria is something else o. The justice and prison system needs to be reformed. I can't even begin to imagine what happens to female inmates and all.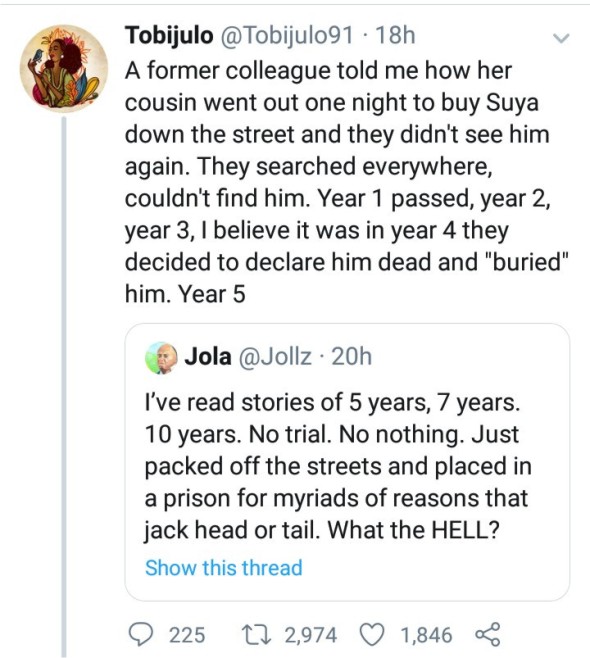 Partner with Expressiveinfo, let's help your business/brand reach a wider audience.
Advertise with us today!
Call 08039323645, 08071610134