A Nigerian man whose mother is a Ghanaian has shared how he grew from working for a gourmet emporium in America to becoming a food truck entrepreneur in New York City.
He also shared how winning the Critics Choice Vendy Award in 2017 impacted his business and what it takes to survive as a food truck owner in America.
Before founding his own small scale business, Godshelter Oluwalogbon worked with Zabar's – a large retail store specialising in smoked fish, caviar, coffee, cheese, kitchen goods and house ware.
As reported by the New York Observer, Godshelter operates from his food truck, parked in front of Nigerian consulate in Manhattan, New York City.
Named the Divine Flavoured Food Truck, Godshelter sells Nigerian food, such as jollof rice with goat meat, gizzdodo (chicken gizzard with plantain cooked in fresh thyme and curry), moinmoin (pureed beans), and puff-puff, among others from the multi-coloured truck.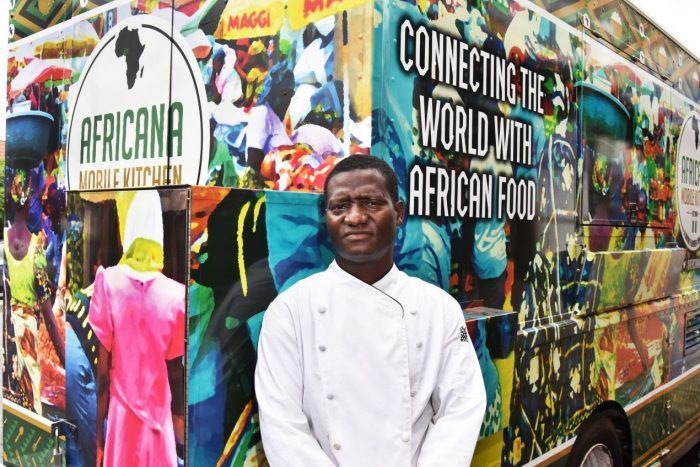 Yoruba-speaking Godshelter Oluwalogbon told Observer that he first arrived in New York City in 2001, but began his food business part-time in 2005 while working at Zabar's and became full-time in 2010, "when he also began to sell his food on 2nd Avenue in front of the Nigerian consulate."
Working with his wife, Bisola, and several employees, Godshelter says he cooks in his Brooklyn kitchen, located along an industrial strip of Atlantic Avenue amid restaurant equipment supply stores.
Explaining his roots, the food entrepreneur said, "I came from Ghana in 2001. I have my Ghanaian nationality, but I've lived in both countries.
"My mom is from Ghana, my dad is from Nigeria. I have family in both countries."
To read more, see here