A 26-year-old Franklin Akinyosuyi arrested for alleged ritual practices has claimed that he bathed with a human skull for a month to boost patronage of his businesses.
According to a report by The Cable, Akinyosuyi, a photographer and owner of a clothing store, confessed that untold hardship and low patronage made him turn to rituals.
"I am a photographer and I own a boutique as well. It was last year that my uncle took me to a herbalist.
I explained to him that my business wasn't moving well, so he asked me to pay N200,000 to make a concoction for me which I paid within three weeks.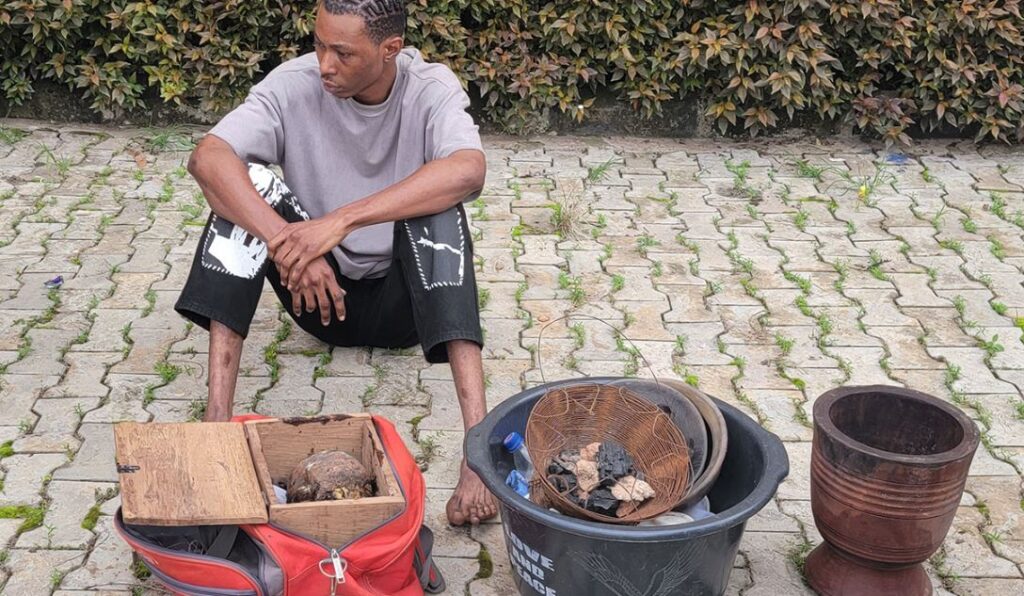 After he was done, he called me to come pick it up and that was last year in November. He directed that I should be bathing with the human head every Thursday at exactly 1 am. I used it for a month but didn't see any difference in my business. So, I had to call the herbalist and tell him to refund my money.
I also asked him to come and pick up the human head as well but he refused to come and pick it up, but he had started refunding my money because he already sent me N20,000. So, on that fateful day, I decided to go and throw it away, so I dropped it in my backyard.
Unfortunately, I went out and before I could return, my landlord's children saw it, informed their father and they ultimately called the police," he said when paraded by the police in Ondo state.
The police spokesperson in Ondo, Funmilayo Odunlami-Omisanya, said Akinyosuyi was reported to the police by his landlord following his suspicious activities.
In Odunlami-Omisanya's words, "The suspect was challenged by his landlord for keeping a bag in a corner of the compound and the landlord was suspicious and asked the young man to open the bag.
When he did, a human skull was found in the bag. After he was arrested, he claimed it was given to him by a native doctor in Osun state."