Openly-gay Nigerian man simply identified as Ayo has declared he will be the first Nigerian to get married openly as a gay man in Nigeria. Ayo stated this on his IG page in a post he made to demand a reversal of the law prohibiting gay marriages in Nigeria.
His post reads,
"LGBT Marriage must be Approved and signed in Nigeria ??
"I Have made research as An Activist,being GAY is not a curse
It is a fascinating lifestyle that ranges from Glory to Glory
Encompassing the earth surfaces….why would you be scared in Your Fathers land being GAY…..I think Nigeria should stop being Homophobic,we are in a modernized world, despites the hatred Nigeria is still Number 1 country that has the most populace and popular LGBT…..
If crossdressing is Accepted without no hatred
There is A great Hope that LGBT will be Approved…
"I will be the First handsome dude that will get
Married openly as GAY in Nigeria ??signed?"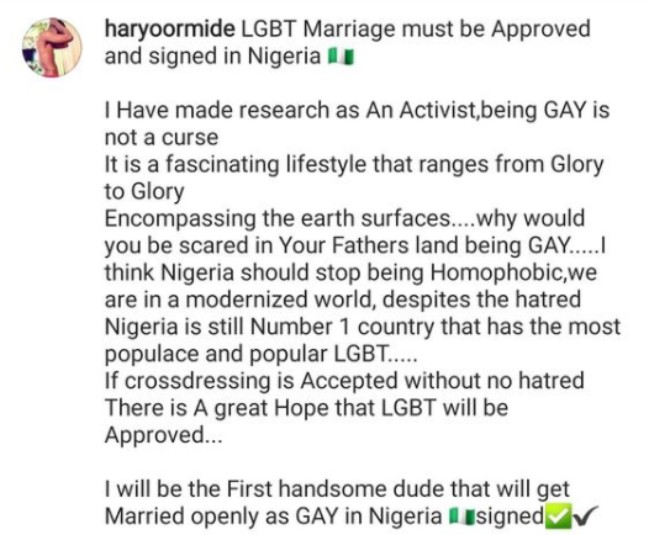 The anti-gay law was signed in January 2014 by former President Goodluck Jonathan. The law prohibits homosexual activities in Nigeria which includes gay marriages. It prescribes a 14-year term for any gay person caught in the act of homosexuality.