Controversial investigative journalist, Kemi Olunloyo, has demanded that DStv removes Nigeria's national broadcaster, NTA News 24 from its channel 419.
This is obviously not unconnected to the fact that the numbers, 419 is a colloquial term for fraud in Nigeria. And, placing NTA in channel 419 seems to many Nigerians like the cable network is reinforcing the misrepresentation that Nigerians are fraudsters.
Taking to Twitter on Monday, Kemi Olunloyo accused DStv of being disrespectful despite the efforts the Nigerian government made to end apartheid in South Africa.
"Dear @dstv U ARE SO DISRESPECTFUL. I am demanding you take our national broadcaster @NTANewsNow off Channel 419," Olunloyo wrote.
"Upon how we helped u end apartheid, OBJ and Shagari spending over $10M, you killed my ppl during Xenophobia and now tagged us to that FRAUD number? Ch 419 must GO."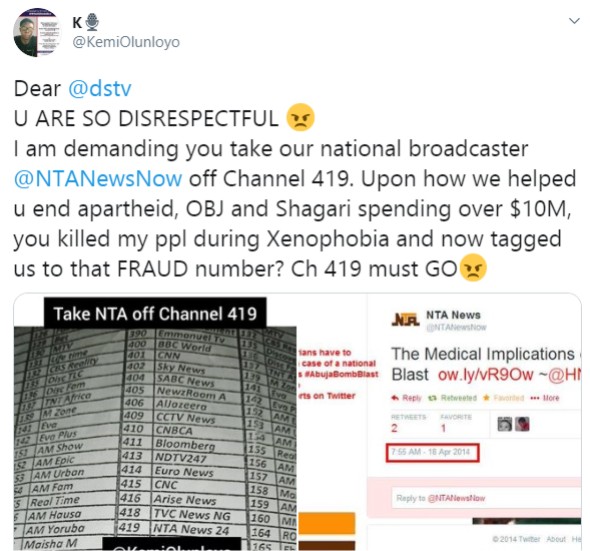 Multichoice Group, owners of DStv, is one of several successful establishments like Shoprite, Pep and Mr Price with South African origin operating in Nigeria.
The cable network has also expanded its influence in the African space with GOtv.
Partner with Expressiveinfo, let's help your business/brand reach a wider audience.
Advertise with us today!
Call 08039323645, 08071610134