As part of the activities to mark the Igbo Day Celebration in Owerri, the State government, Monday night, honoured some Nigerians with Merit Awards. The Awards were Grand Commander of the Order of Imo (GCOI) and Grand Chancellor of the State of Imo (GCSI).
Those honoured with the IMO MERIT AWARD include, Late Sam Mbakwe (Post Humous, GCSI), Chief Emmanuel Iwuanyanwu (GCSI), Chief Arthur Nzeribe (GCSI), Late Ikemba Odemegwu Ojukwu (Post Humous, GCSI), Governor Abdullahi Ganduje (GCSI), Late Alhaji Maitama Sule (GCOI), Dr. Paul Unogo (GCOI), and Chief John Nnia Nwodo (GCOI).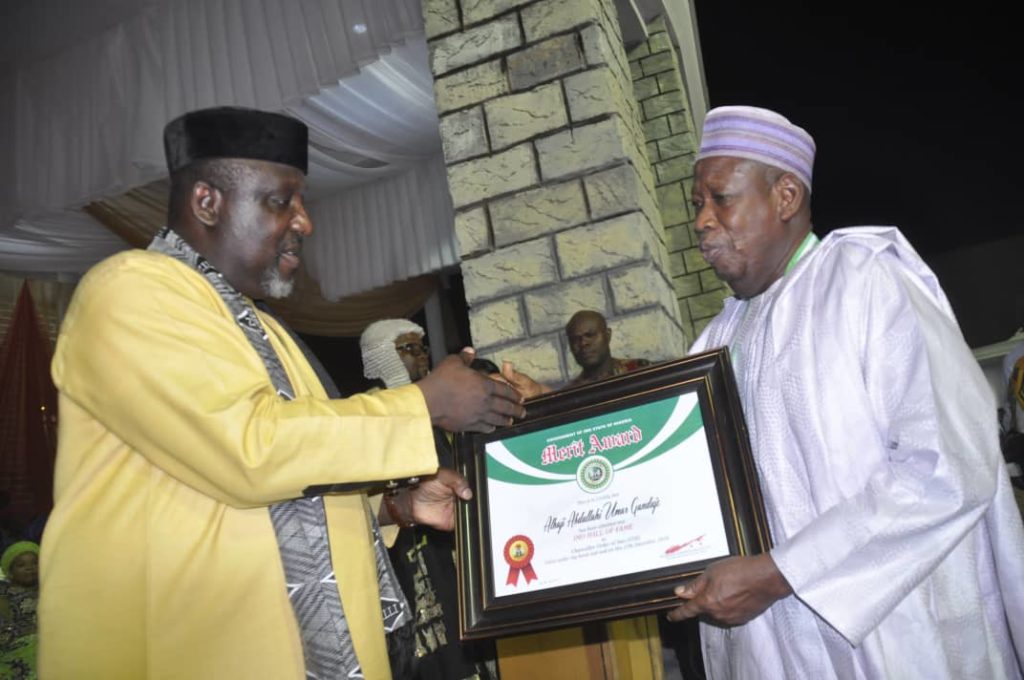 Others are Chief Gary Gary Enwo Igariwey (GCOI), Lt. General Azubuike Ihejirika (rtd) (GCOI), Late Dick Tiger Ihetu (GCOI), Late Chief C.C. Onoh (GCSI), Late Eze Dr. Akanu Ibiam (GCOI), Chief Jim Nwobodo (GCOI), Chief Ndubuisi Kanu (GCOI), and Ayo Adebanjo (GCOI).
In his speech preceding the Conferment of the Awards on the recipients, Monday, December 17, 2018 night at the Ikemba Ojukwu Heroes Pavilion, Governor Rochas Okorocha said, the problem is that Nigerians are not good with history, adding that the State had chosen to honour some Nigerians who have distinguished themselves both in conduct and in service.
His words "This night is a night specially mapped out to honour our great leaders from this State and other parts of the Country and beyond who have distinguished themselves excellently both in Conduct and in service and in the overall development of our dear State and nation".
He added "We have discovered that the problem with our people is that we are not good with history and the fact that we don't easily remember the worthwhile developmental strides of our heroes past; we are at a loss in the shortest possible time and tend to forget these great nationals that have brought about our greatness".
For him "It is therefore as a result of the foregoing that the Imo State government under law number 18 of the Imo State House of Assembly had passed a law to honour our own and those who have in one form or the other impacted on the lives of the people of this State and beyond".
According to him "The Imo State Committee on the Merit Award nomination had carefully selected and eventually came up with the list of Awardees which we have decided to honour tonight".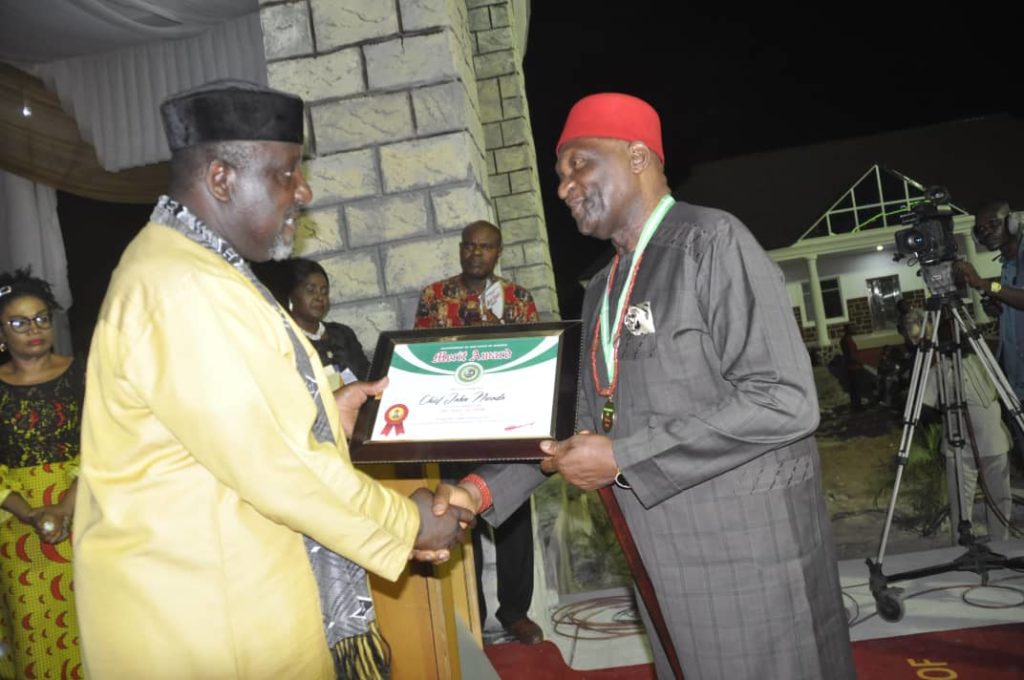 In his response, Chief E.C. Iwuanyanwu said that he was elated by the Award and confessed his indifference to the Rescue Mission Government despite the kind overtures of the administration to him stating that he has received accolades from local and international quarters but that this particular Award is what he cherishes most.
President-General of Ohaneze, Chief John Nnia Nwodo poured encomiums on Governor Okorocha stating that the Award would only prompt him to continue to push further to the frontiers in the furtherance of Igbo development.
He added "I know that someday, someone somewhere will recognize these efforts just like Owelle has done this glorious night. I pray for the coming together of all Igbos so that we will all come to the drawing board to see and correct where we have missed it and to take our rightful place in the comity of this entity Nigeria and the world at large. I commend Owelle Rochas Okorocha for this Award and for single-handedly building a befitting headquarters for Ohaneze Ndigbo in Enugu".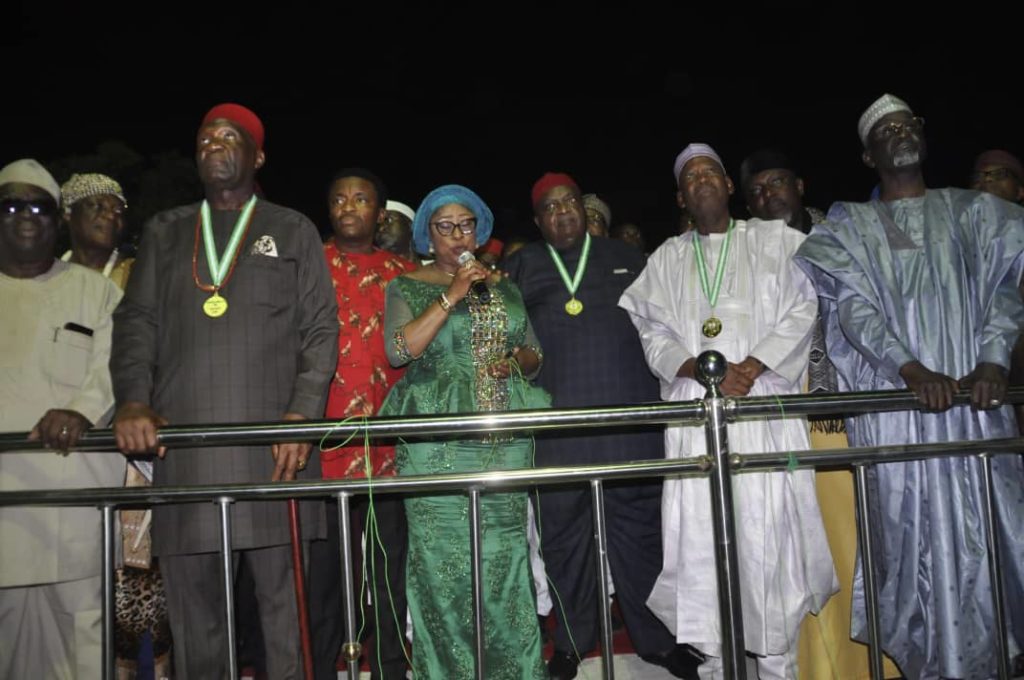 Governor Ganduje in his speech said "I hold this Award very precious to my heart. I am not surprised at the Award knowing that Owelle is one of the best detribalized Nigerians that have the heart for the general good of this nation. I commend the contributions of Ndigbo in Kano State and the foundation of the Imo State Governor, Rochas Foundation Colleges that have impacted positively on the lives of numerous Nigerian children from the length and breadth of this Country".
Sam Onwuemeodo
Chief Press Secretary to the Governor