The Islamic State (ISIS) has released a picture of the "suicide bombers responsible for the Easter Sunday attacks in Sri Lanka".
The image was released by Amaq news agency, the official mouthpiece for the group.
ISIS had earlier claimed responsibility for the suicide bombings which led to the deaths of over 300 persons, saying it targeted Christians and Sri Lanka citizens.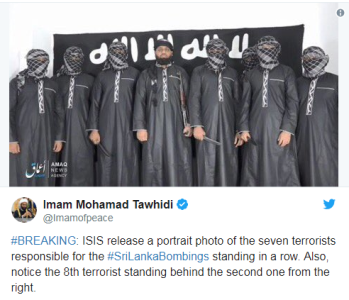 "Those, who carried out the attack that targeted the citizens of the coalition and Christians in Sri Lanka the day before yesterday were Islamic State fighters," Amaq reported on Tuesday.