Korra Obidi has shared a video online that has sparked mixed reactions on the internet.
The mother of two and professional singer-songwriter and model made a video where she asked fans to show they love her by purchasing her book which is now on Amazon, and not only love her in words.
Korra also said that all who were ill-intent towards her should apologize or have their names remain in the book.
In her IG post, she captioned the book:
"New Book, #KORRAISLIVE. Now an Amazon Best seller💃🏽
My Own Side of the Story.
Korra Obidi from Lagos to China, to the USA and to divorce. There are 2 sides to every gist.
#korraislive #korraverse"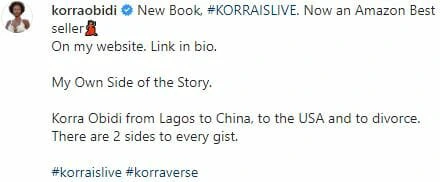 Korra was moving her body to the rhythm of the music she was listening to from her TV throughout the video.
Shockingly, Korra suddenly threw her legs up in the air, revealing her inner wear under her very mini-length gown.
The video has caused a negative reactions, and some even said it's attached to the reason for her divorce.
See the video below.