A young woman identified as Martha Yellowe has taken to social media to cry out for justice over the mysterious death of her younger brother who she claims died after he was arrested by SARS officers in Port Harcourt, Rivers State.
Read her story below.
Tough times indeed for my entire family but in all His grace and mercies are keeping us strong.
My younger brother Solomon Yellowe, the last born of the family, left Uniport campus after a test to withdraw money from a bank's atm on the 13th of March. Not long after he was arrested by SARS. By 14th of March my brothers lifeless body was deposited at UPTH mortuary by the same SARS that arrested him. They never contacted us despite knowing that we were looking for him. We went to their station several times and they continuously denied ever arresting any Solomon Yellowe. It was on the 26th of April that we finally discovered my brother's body at the mortuary.
He was healthy at the time of his arrest and was taken to SARS, Rukpokwu where he was subsequently murdered the next day. He was tortured to death…
My brother had never been arrested before nor does he have any record of criminal activity. We have also not received any information of a complaint against him. Yet he was killed by police without any regard to his family.
Pls I want to urge every one on this platform, in anyway you can to assist us to get justice for my brother, Solomon, whose life was cut short for no apparent reason.
Signed
Anna Yellowe-West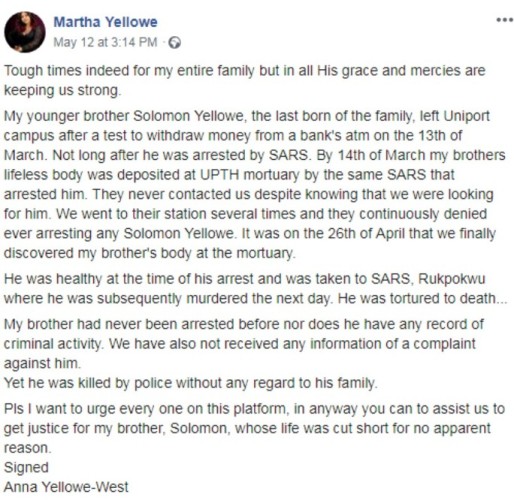 Below is an earlier post she shared during the time her brother was missing.