Nollywood Actor Uche Maduagwu is obviously not pleased that singer Peter Okoye has promised to give Big Brother Naija Housemate, Tacha the 60 million Naira prize money if she is unable to win the on-going PepperDem Edition of the Reality TV Show.
Peter Okoye, also known as MrP has been in the news lately following his promise to gift Tacha the prize money which has generated different reastions. While we have people who believe that controversial Tacha doesn't deserve such a generous donation, we also have people who believe that MrP could have used the money to empower many indigent people; and of course, we have the people that believe that the singer has worked hard to make his money and is at liberty to use it to do whatever he pleases.
MrP have also replied those trolling him regarding the money and told them to keep their hate and financial advice to themselves and instead go and hustle so they can have their own money to give as they please.
Actor Uche Maduagwu who is the lastest to express his displeasure over the singer's decision took to Instagram to call the singer an upcoming artiste asking him how many borehole he has built for his rural community.
Read what Uche wrote below.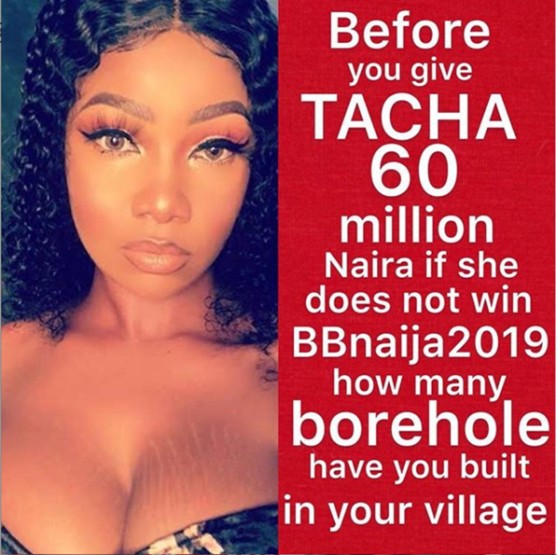 Before you give TACHA 60 million Naira if she does not win BBnaija 2019, how many BOREHOLE have you built in your village? The kind of celebrities we have in this #country are so #FUNNY, someone just told me an up coming singer allegedly said he would give #TACHA 60 million Naira if she does not WIN #BBnaija2019, abeg, help me ask that up coming singer how many borehole he has built in his own village through out all his #MUSIC career? Is it up to half of that money he allegedly wants to give a #GIRL on #PepperDem?
This is why #America and #UK laugh at us in #Nigeria, imagine, with all the #POVERTY in #Naija, these your so called celebrities will never HELP the poor or youth who have great business ideas, or even go to charity homes to give this millions, so many villages in the #EAST lack clean drinking water, how many of these little things have you done to assist? But, when it comes to criticizing #Buhari, they will be number one, what is wrong with us in Africa?