The controversies surrounding the real guber candidate of Action Alliance have finally been put to rest. This is after both the National chairman and Imo state chapter chairman of the party spoke in unison in different occasion that Ugwumba Uche Nwosu is the real Governorship candidate of AA in the forthcoming 2019 election.
When the National Chairman, Barrister Udeze Kenneth Obidich spoke, he said:
"Ugwumba Uche Nwosu's nomination as the governorship candidate of the Action Alliance met all laws and processes known to the Nigerian Constitution, Electoral Act and the Constitution of our great Party. His candidature on our Party's platform is not in any form of dispute and the Party shall support him to win the governorship election in 2019."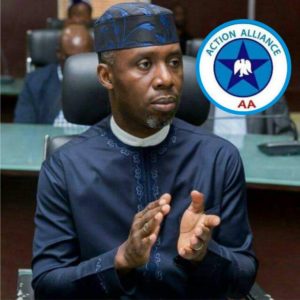 Udeze who was elected the national Chairman of the Action Alliance in April 2017 clarified that his position as the national Chairman of the Party is not in dispute and that any other person laying claim to that is an impostor who must not be taken seriously by the public.
"We understand that Ugwumba Uche Nwosu has a most formidable support structure across the State which intimidates his opponents so much that they feel that the best way to stop him from winning the election is by making efforts to stop him from being on the ballot. Our great Party is already mobilizing voters to ensure total victory for us in the coming elections and we will not be distracted by some political contractors seeking attention by all means." He concluded.
On the hand, the Imo state chairman of the Party, Chief Anthony Uchendu Ahaneku said that Uche Nwosu is the authentic and recognised candidate of the party for the 2019 governorship election in the state who fulfilled all the requirements to become the party's flagbearer.
The State chairman made this statement when speaking at the Nigerian Union of Journalists (NUJ) secretariat in Owerri on Wednesday. He dismissed the claims of Mr. Leonard Okolienta, who said he is the governorship candidate of the party in Imo, describing him as an impostor who neither purchased the party's nomination forms nor paid all the necessary fees and challenged Okolienta to produce the receipt of the fees he paid. "Okolienta did not pay for expression of interest and nomination forms."