President Muhammadu Buhari has told APC Governors that over-confidence, complacency and bad tactical moves made the opposition political parties lose the February 25 presidential elections.
He said on Thursday that while the ruling All Progressives Congress (APC), was working hard to retain power in the recent elections, the combined opposition was a victim of over-confidence.
Speaking at his residence at State House where he received the Progressive Governors Forum, led by its Chairman, Governor Abubakar Bagudu of Kebbi State, Buhari said: "They were already telling their foreign backers that they would defeat the APC. Our party blended confidence with caution, we worked hard and won.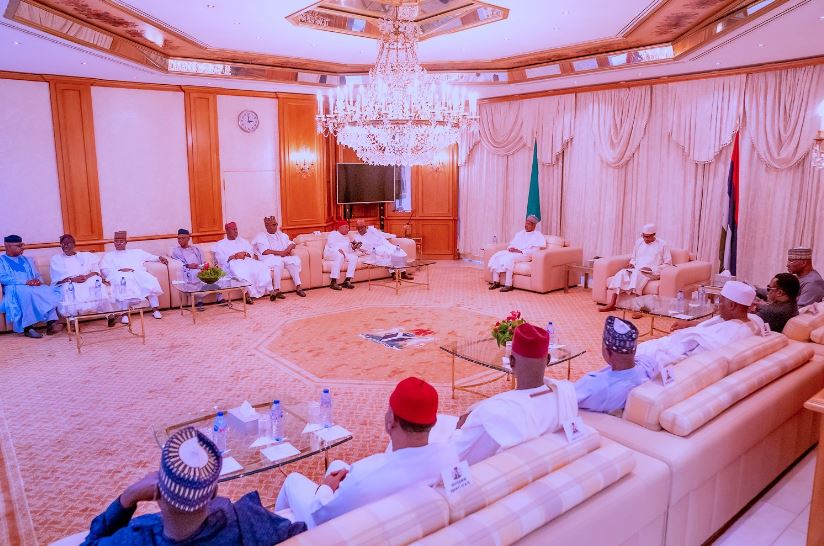 "Now, their over-confidence is creating more problems for the opposition than anyone else. They are finding it hard to convince those who supported them from outside why they are unable to beat us.
"A combination of over confidence, complacency and bad tactical moves made them lose, plain and clear. This has created more problems in their camp. Why did they fail to remove us?"
Speaking in response to an issue raised by Governor Bagudu, the leader of the forum, Buhari said: "An important reason I congratulate Asiwaju on winning is because the opposition got support and false hope from outside and went on to create the impression that they will win, that they will defeat us. How more wrong could anyone be?"
He charged the Progressive Governors to stick together and openly address issues among themselves.
President Buhari spoke at length about his retirement proposal, saying he intended to be at home in Daura for six months before moving eventually to Kaduna.
He thanked Governor Nasir el-Rufai of Kaduna State for the infrastructure he has provided that would make life for his retirement and that of the people of the state much better, adding that the Governor of Kano had equally done the same.
The Chairman, Atiku Bagudu said the visit was ostensibly to say "Happy Sallah" to the President and to thank him for the leadership he had given to the Party and the nation.
The governors in attendance in addition to Kebbi were from Plateau, Imo, Kwara, Ekiti, Kaduna, Kogi, Lagos, Cross River , Jigawa, Katsina, Ogun and Nasarawa States. The Deputy Governors of Kano, Gombe, Borno and Ebonyi were in attendance, as well as the Secretary to the Government of the Federation, Boss Mustapha.
See more photos from the meeting.