A Pennsylvania lawmaker, Rep. Stephanie Borowicz has incurred the wrath of many for the opening prayer she said on Monday in the Pennsylvania House of Representatives.
Rep. Stephanie Borowicz began the day's session with a less than two minutes Christian invocation in which Jesus' name was mentioned 13 times and so much emphasis laid on 'God forgive us'.
The prayer has been criticized wildly because it was an opening prayer before the first Muslim woman to join the Pennsylvania House was sworn-in.
Watch the prayer:
Movita Johnson-Harrell, the first Muslim woman lawmaker and a Democratic representative from Philadelphia, was sworn in to office after the invocation from Rep. Stephanie Borowicz, a Republican from Clinton County. Johnson-Harrell described the content of the prayer as a "political statement."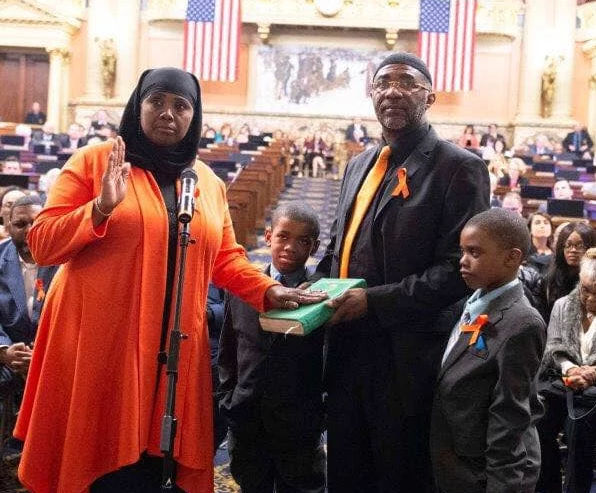 It is common for the Pennsylvania House to open its sessions with a prayer. While religious leaders typically gave the prayers in the past, a federal judge ruled last year non-theists are allowed deliver invocations. The Pennsylvania Capital-Star reports that after the ruling, the House has used lawmakers to give the prayer.
Borowicz's prayer drew immediate condemnation. Toward the end of her invocation, another representative could be heard objecting. After Republican House Speaker Mike Turzai briefly touched Borowicz's arm, she quickly wrapped up the prayer.
In a statement to the Capital-Star, Johnson-Harrell said the prayer "blatantly represented the Islamophobia that exists among some leaders — leaders that are supposed to represent the people." She said she brought 55 guests to her swearing-in ceremony, the majority of whom were Muslim.
Borowicz was "intentionally being offensive," Johnson-Harrell told Philadelphia public radio station WHYY. The prayer was further hurtful because, she said, Muslims "actually believe that Jesus was a prophet. Muslims understand the significance of Jesus in this world and in our own personal lives."
House Minority Whip John Harris (D) told Penn Live in a statement that Borowicz used her religion and the prayer to "intimidate, demean and degrade" Johnson-Harrell.
"Let me be clear. I am a Christian. I spend my Sunday mornings in church worshiping and being thankful for all that I have," Harris said. "But in no way does that mean I would flaunt my religion at those who worship differently than I do. There is no room in our Capitol building for actions such as this, and it's incredibly disappointing that today's opening prayer was so divisive."
Following the legislative session, House Democratic Leader Frank Dermody gave a speech on the floor, saying the opening prayer should bring representatives together.
"This morning on a very important day, on a day where we're swearing in a new member, the first woman Muslim serving in the Pennsylvania House of Representatives in history, there was a prayer that was not meant to inspire us. There was a prayer that was not meant to bring us together,"

"Never have we started out with a prayer that divides us," Dermody said on the floor afterward. "Prayer should never divide us, it should be inspirational." Dermody said, which drew applause from members.