Labour Party (LP) Presidential candidate in the last election, Peter Obi, has aired his support to the decision of President Muhammadu Buhari to postpone the national census.
Recall that Buhari on Saturday, 29th April, approved the postponement of the 2023 National Population and Housing Census until further notice from the incoming administration.
Peter Obi in a Twitter Thread reacted to the postponement, declaring it as a welcome development.
He tweeted: "FGN's decision to postpone the 2023 Population and Housing Census, scheduled for 3-7 May 2023, to a date to be determined by the incoming Administration is a propitious and welcome development. National Census is a critical development and nation-building tool.
"Even though Nigeria is long overdue for a census, conducting one requires proper planning and diligence to ensure the sanctity of the results; the efficacy of the data gathered therefrom, as well as their utility in driving national development goals.
"Our living standards and growing national housing deficits. It is hoped that when eventually the census is conducted, it will serve as confidence-building measures instead of being fraught with the usual controversy."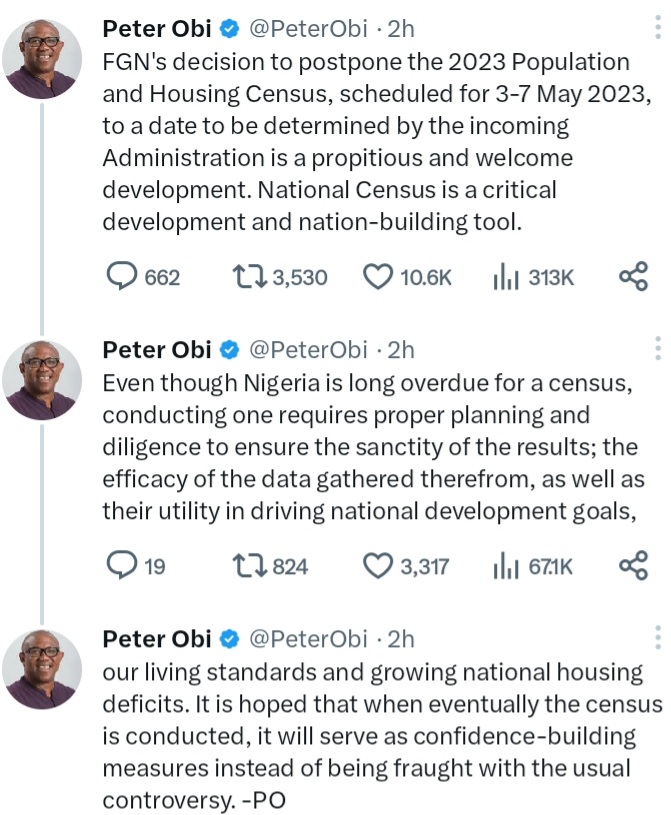 Expressive Info earlier reported that the National Population and Housing Census rescheduled for 3rd to 7th May, 2023 by the Federal Government has been postponed until further notice from the incoming administration.