The Presidential Election Petition Court (PEPT) has announced that it will deliver its verdict on Wednesday, September 6 and televise the proceedings.
In a statement signed by the Chief Registrar, Court of Appeal HQ, Umar Bangari, on Monday, it was also confirmed that the judgment will be delivered via a live broadcast. The court said the decision was to promote transparency and openness and for Nigerians to watch.
Part of Umar Bangari's signed statement reads,
"The Court of Appeal wishes to inform the General Public that judgment in the following petitions before the Presidential Election Petition Court will be delivered on Wednesday 6th September 2023: CA/PEPC/03/2023 between Mr. Peter Gregory Obi & Anor VS. Independent National Electoral Commission & 3 Ors. CA/PEPC/04/2023 between Allied Peoples Movement VS. Independent National Electoral Commission & 4 Ors," the court registrar said in a statement.
"CA/PEPC/05/2023 between Abubakar Atiku & Anor VS. Independent National Electoral Commission & 2 Ors. In a bid to promote transparency and openness, these judgments will be televised live by interested Television Stations for the public to follow."
He added, "Access to the Court premises will be strictly on accreditation. Only accredited individuals, including Counsel and representatives of Political Parties, will be granted access to the courtroom. Interested members of the public are advised to watch proceedings from their television sets. We appeal for the maximum cooperation of the general public to ensure a hitch-free exercise, please".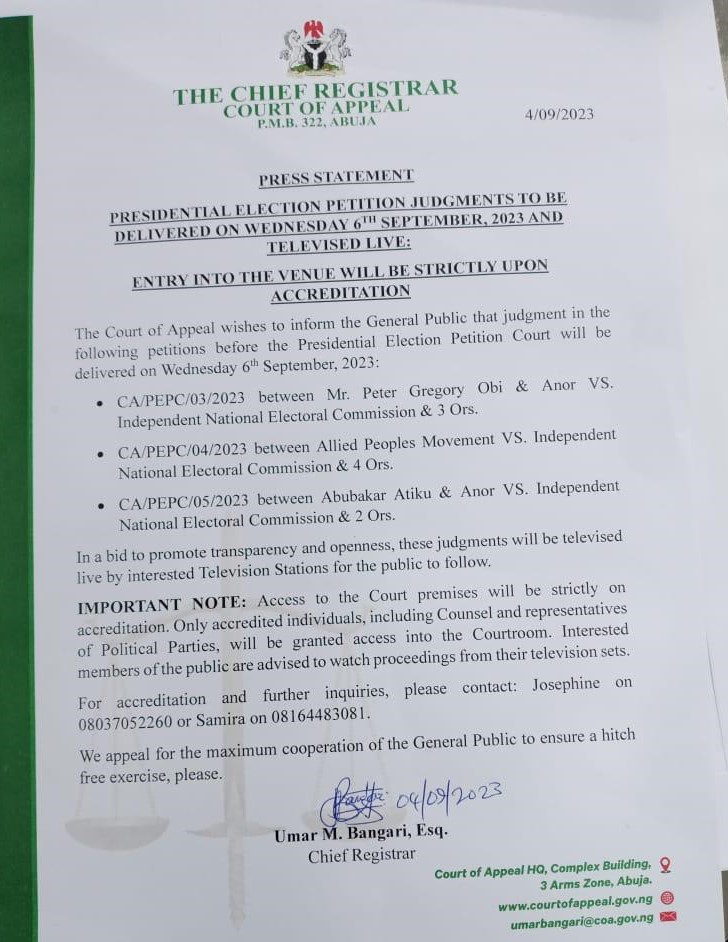 The Labour Party (LP), the Peoples Democratic Party (PDP), and the Allied Peoples Movement (APM), as well as their presidential candidates, had petitioned the tribunal seeking to nullify the election of President Bola Tinubu as the winner of the 2023 presidential election.
Judgement is also expected to be delivered by election tribunals in 25 states for governorship, National Assembly, and state assembly election petitions.
The results of the polls announced by the Independent National Electoral Commission (INEC) are being contested in no fewer than 25 states out of the 28 states where elections were conducted.