The vice presidential debate which held on Friday night had in attendance only candidates from five political parties.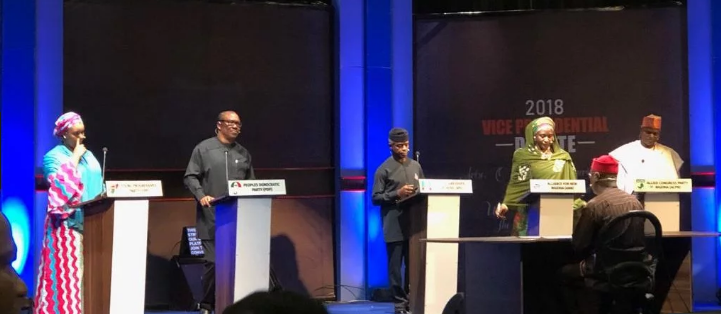 From left: Umar Gesto of Young Progressives Party (YPP); Peter Obi of Peoples Democratic Party (PDP); Yemi Osinbajo of All Progressives Congress (APC); Khadija Abdullahi of Alliance for New Nigeria (ANN); and Ganiyu Galadima of Allied Congress Party of Nigeria (ACPN).
Many people from different quarters have reacted to the debate. The internet has not stopped buzzing as a result of the issues talked about in that debate. 
For now, we will bring you the scores from those that actually attended the debate in Abuja. The attendees of the programme, expecially from non-partisan participants agreed that Mr Peter Obi of the PDP emerged the winner of the debate, followed by Yemi Osinbanjo of APC.
It was reported that from the instant interviews conducted by reporters after the debate showed the Peoples Democratic Party vice-presidential candidate, Peter Obi, edged Vice-President Yemi Osinbajo of the All Progressives Congress in the vice-presidential debate.
The respondents were reluctant to comment on the showing of three other vice-presidential contenders who took part in the five-man debate, repeatedly preferring to focus only on Osinbajo and Obi.
Stylistically, respondents said Mr Obi dominated. He looked mostly into the camera, which conveyed confidence. His voice was calm, but not entirely conversational, reminiscent of his decades' experience as a trader.
In contrast, Mr Osinbajo frequently interrupted. He talked somewhat faster than he ordinarily does and defensively in many cases.
The vice-president ferreted from talking point to talking point, especially on rice production output, road infrastructure and the social investment programmes, and oftentimes gets shut down by Mr Amarere.
Mr Amarere's decision to keep the debate strictly around the economy saw the contestants put up their statistics A game, and many in the audience were completely blown away.
"To be honest with you, Peter Obi was amazing," Saryum Okorare, an Abuja-based human resources professional, told PREMIUM TIMES. "I saw it all how he was able to dole out statistics from his head." "His pen never touched paper and he was making sense with data, and you know data is life and does not lie," she added.
"But the other people, not so much," Ms Okorare said. "The vice-president is a professor, he has the ability to do more, but…"
Another non-partisan attendee Mary Omono, acknowledged the unique performances of Obi and Osinbajo, but still found Mr Obi's ways with data more amusing.
"The debate was really interesting, thanks to both of them, but Mr Obi came out stronger for me because he did not only outline the problems, he gave solutions to them. He also gave statistics to back up most his positions," Ms Omono added.