The violence that followed the supplementary election in Kano State on Saturday, March 23 seems not to be ending really soon.
The former governor of Kano State, Rabiu Musa Kwankwaso has just called on all Kano citizens to march to INEC office in Kano to protest.
The former governor took to his Facebook account to call on the citizens of Kano to go on civil disobedience at the INEC office to protest what he perceived as injustice in the rerun.
He wrote:
Civil Disobedience is how we have chosen to protest the injustice in the Kano rerun elections; all Kano citizens that feel aggrieved should join us at INEC Office Hajj Camp right now!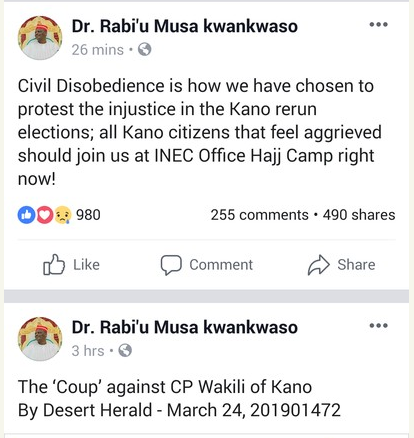 As much as perceived injustice may be very painful to bear, will this call to civil disobedience not lead to more violence and casualties? Is there no other way to solve this like using the Tribunal?