Singers Rihanna and Beyonce, as well as renowned Media mogul, Oprah Winfrey, have spoken out on the death of George Floyd, the black man who died after being pinned down by a white police officer in Minneapolis.
They took to their respective Instagram pages to condemn the murder and demand that more charges should be brought on all those involved in the death of George Floyd after ex- Minneapolis officer, Derek Chauvin, who knelt on George Floyd's neck till he died, was arrested and charged with 3rd degree murder on Friday. 
"For the last few days, the magnitude of devastation, anger, sadness I've felt has been overwhelming to say the least!" Rihanna wrote on her page, with a photo of George. "Watching my people get murdered and lynched day after day pushed me to a heavy place in my heart!"
She continued, "To the point of staying away from socials, just to avoid hearing the blood curdling agony in George Floyd's voice again, begging over and over for his life!!! The look of enticement, the pure joy and climax on the face of this bigot, murderer, thug, pig, bum, Derek Chauvin, haunts me!!"
"I can't shake this! I can't get over an ambulance pulling up to an arrest, a paramedic checking a pulse without removing the very thing that's hindering it! Is this that fucking normal??? If intentional MURDER is the fit consequence for 'drugs' or 'resisting arrest'….then what's the fit consequence for MURDER???! #GeorgeFloyd #AhmaudArbery #BreonnaTaylor."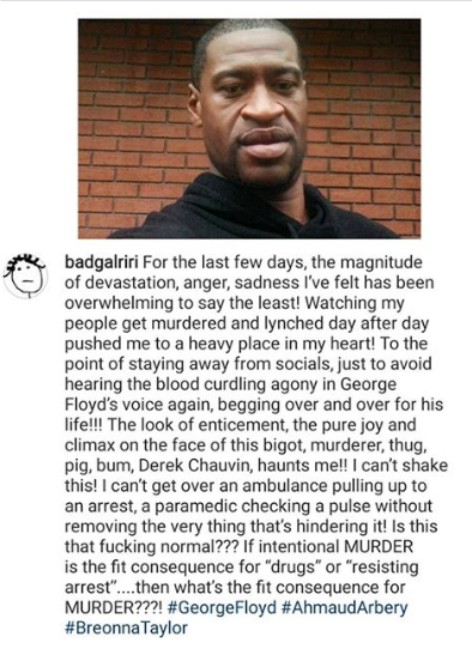 On her part, Oprah Winfrey vowed that #GeorgeFloyd will not just be a hashtag as all will call for justice in his name. See her post below.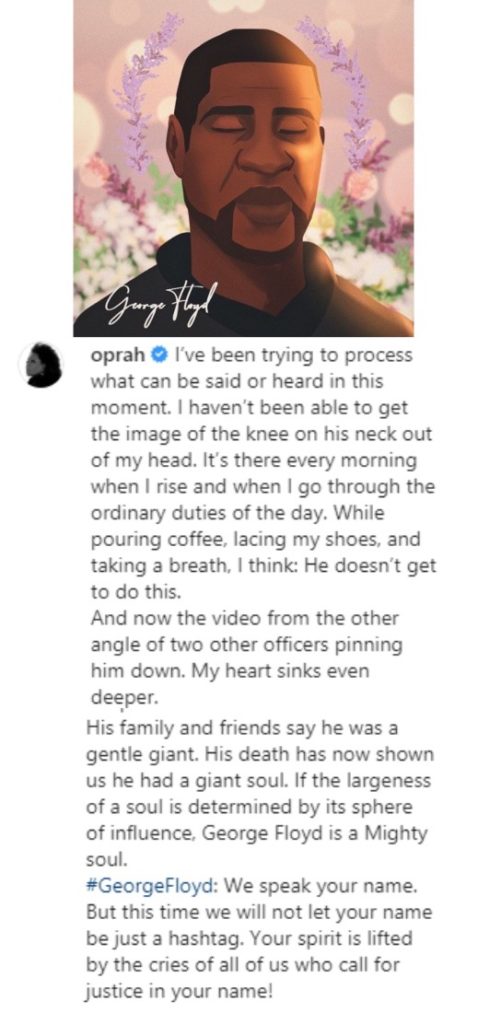 Listen to Beyonce in the video she made below.
Partner with Expressiveinfo, let's help your business/brand reach a wider audience.
Advertise with us today!
Call 08039323645, 08071610134