The Police has revealed the names and photos of all three officers in a video who were seen assaulting a man and rough handling his female partner. They have identified as Inspectors Adejoh Siaka and Friday Obaka, and Sergeant Ndiwa Kpuebari.
Muyiwa Adejobi, spokesperson for the Force HQ disclosed this in a Twitter post on Tuesday evening, 11th April, when he uploaded the photo of the three officers on his Twitter page.
"These are the men who slapped a man on the road in Rivers. They reported at the Force Headquarters today. Trial will soon commence. We will update you as soon as possible," he wrote.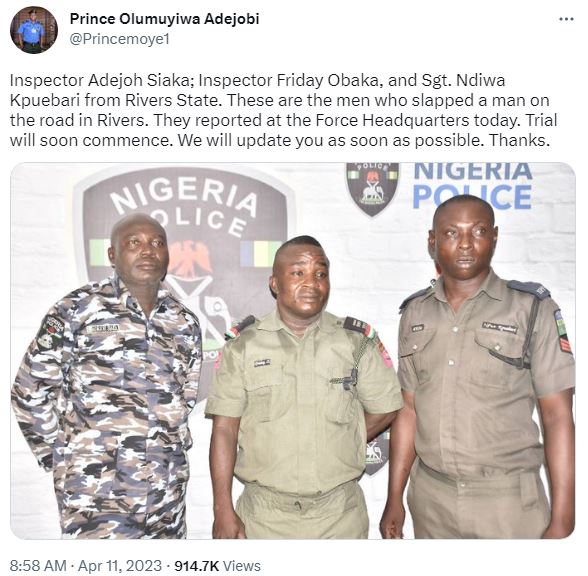 He also informed Nigerians on Monday via Twitter about the arrest of the officers, and that they would be brought to the Force Headquarters, Abuja, the following day being Tuesday for interrogation.
The video making the rounds on the net and social media platforms which exposed the act of the policemen showed one flogging and then slapping twice a man they pulled over to the roadside, and another forcefully pushing the female company into the man's car as they ordered them to move into the car.
After the clip caused wild reactions on the net, the Commissioner of Police in Rivers State, Okon Effiong, then ordered the arrest of the officers on Monday, promising to sanction them.
Mr, Adejobi described their actions as "barbaric" which he said does not represent the Police well.
"I wonder how a man, a reasonable man, would be flogging or slapping a grown-up man in that manner," he said.