A student of Imo State University (IMSU), Akanno Justice Nzubechukwu is missing. Justice was declared missing by his family and friends.
Justice is a 400 level Student of Education-Physics in the faculty of Education at the IMO State University.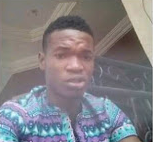 Friends and Families are worried and bittered about his whereabout.
It was gathered that Nzubechukwu was last spotted around Control Junction, Assumpta Cathedral Owerri during the ember month of 2018 by persons who were unaware of his disappearance.
Anyone with relevant information as to his whereabouts is implored to contact his family via these numbers: 08068155588, 08035127761 and 08131608910.