A young writer identified on Facebook as Adeleke Rachel Tioluwani has reportedly committed suicide 11 months after writing about "depression and suicide". 
Friends who took to social media to mourn the deceased, disclosed that she was facing lots of challenges which pushed her into depression and suicide.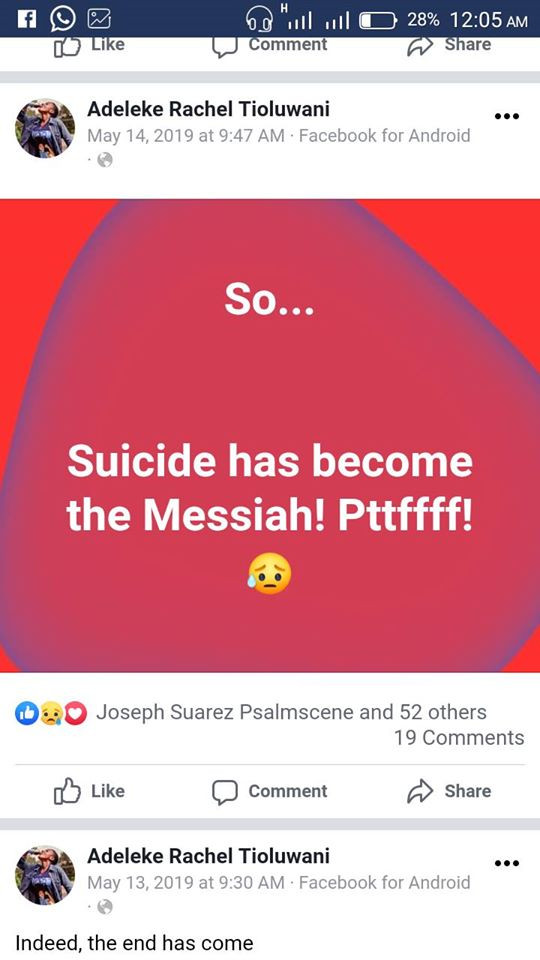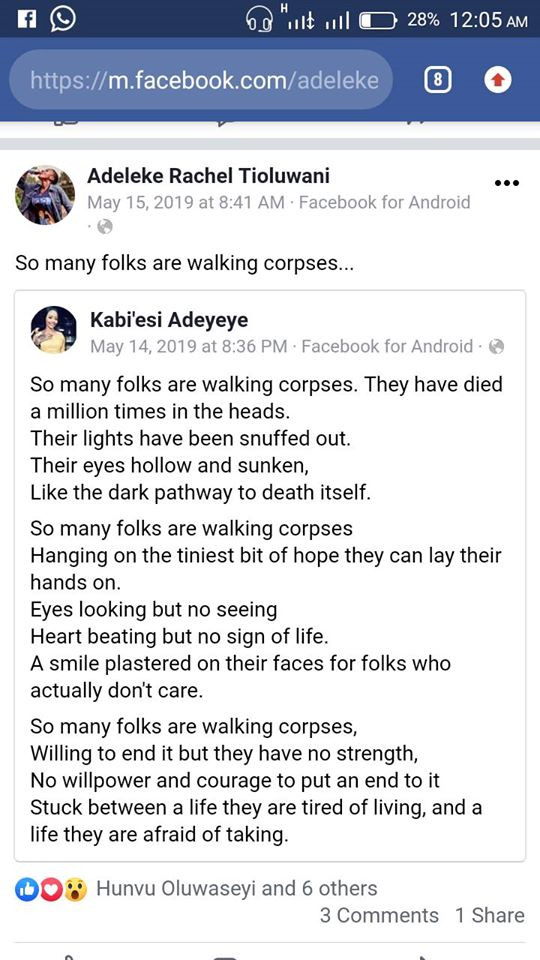 It was gathered that before her death, "Tioluwani who was in psychological pain and had no father-figure in her life, was practically nursing and taking care of her mum, self-sponsoring her schooling with virtually no assistance from anywhere."
Tayo Fasuan wrote; 

A Tribute to Adeleke Rachel Tioluwani
At the height of my intense pain and sadness yesterday, I snapped, and started feeling a sense of errie calmness resulting from resignation about Tolu's demise. I'm still hoping this is a bad joke though, and she came would come to say this is her own version of April Fool. But also, I hope with this post, I would be able to exorcise all the pains I'm feeling and dwell on happy memories I have of her.
Tolu had always been an enigma, and despite our relationship from just last year, we didn't even meet for once. She approached me for mentorship for fiction writing, and I told her she didn't need my help since she was already so good in expressing herself through written poems. She had ways with words, and she was meant for greatness with an imaginative mind that would rival anyone's.
We started working together eventually, becoming perhaps the first official member of FictionWrit Magazine. However, few weeks into working with her, I realised she was troubled. At first, I thought it was financial after talking with her, and I told her I will be sending upkeep money to her when she explained her issue with schooling. She rejected that, and I had to convince her that I would be paying for her writings instead. That seemed acceptable with her, and we proceeded.
Weeks later, she had another issue. She was having issues with her boss, the founder of a writer community. It was a messy affair, and in my attempts to help her resolve it, I realised she was a ticking time bomb, walking all over eggs all her life. She was still very secretive, refusing to open up completely, but she let me in enough to catch a glimpse of the hell she was going through. At that young age of hers, she was going through what she shouldn't be going through. With no father figure in her life, and she practically nursing/taking care of her mum, self-sponsoring her schooling with virtually no assistance from anywhere, she was in perpetual psychological pain.
I offered that she should consider change of location, and I even offered her a place to stay in Ekiti to start over again, promising to fund most of her expenses. She refused, insisting she couldn't leave her mum. I offered other places for her to stay in Lagos, but for reasons I won't divulge here, she still couldn't take those offer. We reached an agreement eventually concerning work, funding and how to handle issues.
Few months into that agreement, she disappeared completely. Her phone was off, she wasn't responding to her WhatsApp, and her Facebook was deactivated. I became exasperated after trying so much, fearing the worse and hoping for the best. After a while, I gave up. Late last year, she got across to me briefly to tell me she was okay, but before I could got a hold of her again, she disappeared. And I let her be again, hoping she would get back to me when she is fine.
I went through her walls last week, and I was shocked with the dark words there. Her writings have always, always carried a dark theme, as I had encouraged her to pour her emotions on paper through her ink as most of us writers do when we are going through hard times. This was different though. On reaching her WhatsApp status, I saw other ones, so I got across, knowing she was back on WhatsApp.
Our conversation revolved around coming back to writing and continuation of her education, having concluded OND last year. I told her we should consider her crossing to a degree program because of the problem with HND. We fell right back into smooth conversation, and she promised to even started writing, to get back to me on an offer I gave her. I thought she was over the worst, but I was so careless I couldn't see beyond that definite goodnight she sent me.
I'm hurting right now not really because of her death, but because even till her final moments, she would be full of optimism. She was full of life. Of course, people are saying that's the usual way suicidal people act, but I still can't swallow that theory. She was a fighter, an incredible bullish one concerning life. She was a sweet one.
If she is truly dead, then I morn for an irreplaceble loss to this world. She is at peace right now. I wish she had done it differently, but I can't seem to help her change her mind. That hurts too. Because this feeling of not doing enough to save her still lingers..
I won't dwell on her death anymore. She had touched the lives of those she could and concluded her part. The happy memories are few because she was always in that dark hole that I had to be pulling her out every time. But those few memories are worth holding on to.
May she find the peace that eluded her here on the other side.

Once again Tolu, "Be good, Good night."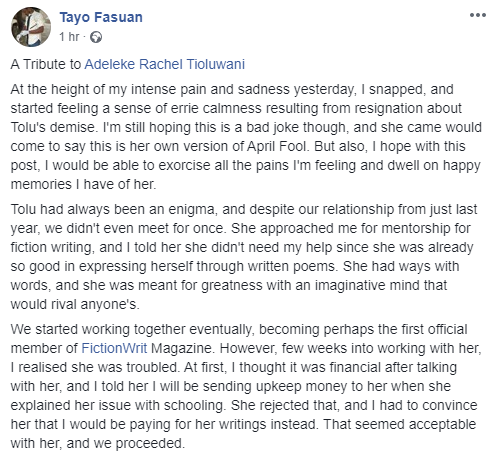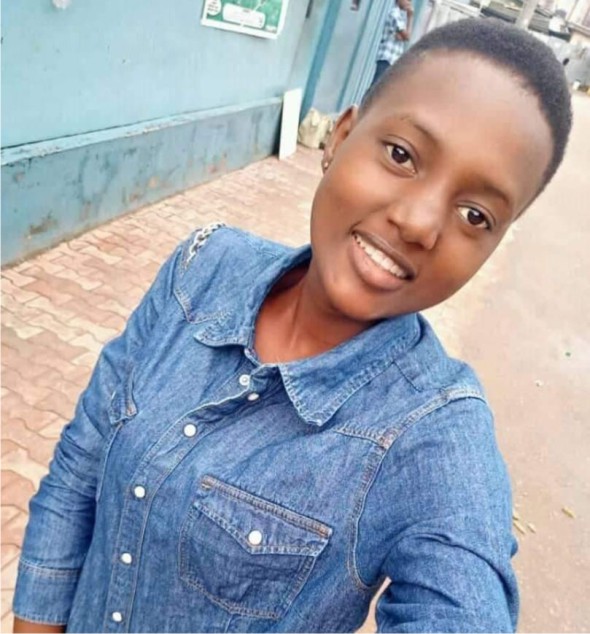 Another friend, Oluwafemu MC Zeezou wrote; 
I remember the day you said you'd like me to mentor you on poetry, I kept wondering what is left for you to learn because the you wey I know na fire.
We began and we agreed we'd write about every sweetness and every bitterness. Writing eases the pain so we would always write and let it out.
I'd fondly say that if you turned to ink, I'd write you dry and you'd tease the same. You are easy to fall in love with, sweet and different.
Seemingly calm with a dazing smile but silently carries a lot of worry on her shoulders.
You know those metaphors and puns you dish that made me question if I was truly a poet. Your craftiness with the pen is admirable and here I am wondering why Tolu, why you couldn't just use your gift to beat depression.
Nothing dey this life wey you no fit tell me

In December 2018, I lost Aisha to depression and suicide. I remember how you comforted me and told me all will be well. A year and 4 months down that road Richie, you took that same path.

You said you had it covered and sucked it's clits but 1 year later, you let it do the same
See, ko da ooooooooo. Olorun'gbo, ko da.
Leaving me in pool of tears knowing I'd never set my eyes on your beauty again.
Richie for fucks sake, you top your class in OND. Your classmate whom I know speaks highly of you and how crazy you are with your academics. Yes, life has been hard but we could have kept fighting.

Dee, loves you like her own daughter. I love you too
You see, I never told you and I am so ashamed of myself right now but maybe your spirit would be lurking around somewhere your Facebook reading, YOU INSPIRE ME, YES MY LOVE, YOU SOOOOO INSPIRE ME
I love you Adeleke Rachel Tioluwani. Maybe by day break someone will tell me this is some sort of joke but for now, please rest in peace because I am already in shattered pieces.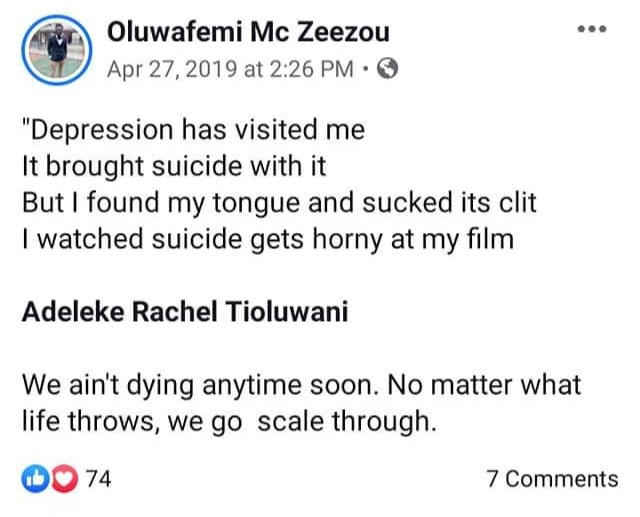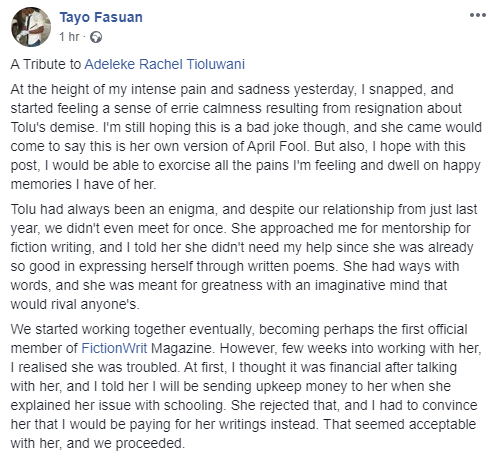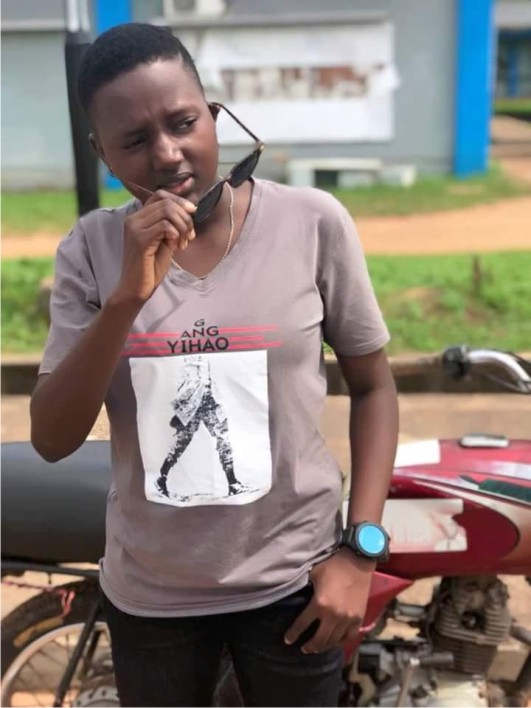 Partner with Expressiveinfo, let's help your business/brand reach a wider audience.
Advertise with us today!
Call 08039323645, 08071610134