Samantha 'Sam' Kerr is an Australian football player and captain of Australia women's national team (The Matildas).
She currently plays as forward for Chelsea in FA Women's Super League (WSL) and recently renewed her contract on the 16th of November 2021, signing a two year contract extension which will keep her at the club till summer of 2024. Her words after signing the contract were: "I can't see myself going anywhere else in the world or leaving Europe, having what I have at Chelsea."
Days later, FIFA announced that Sam Kerr, alongside 12 other players, has been shortlisted for The Best FIFA Women's Player of the Year 2021.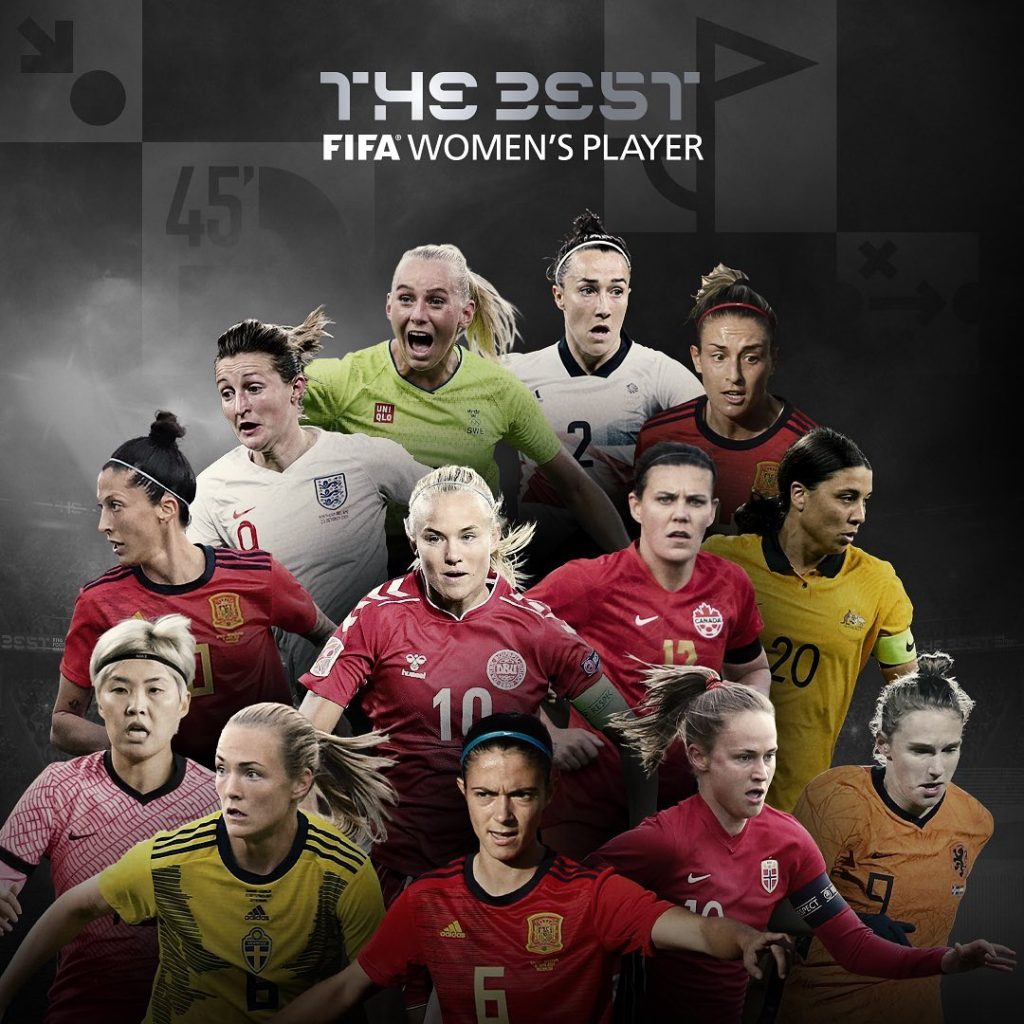 HER CAREER
Born September 10,1993 in East Fremantle, a suburb of Perth, Western Australia, Sam Kerr started her professional career at the age of 15 with Perth Glory where she played from 2008 to 2012, before transferring to Sydney FC.
Kerr played in the United States National Women's Soccer League (NWSL) between 2013 and 2019, scoring 77 goals to set the record as the all-time leading scorer in USA, a record no one has broken as at 2021. She was also all-time leading goal scorer in the Australian W-League until the 2020/2021 season.
Kerr is the only female football player to have won the Golden Boot in three different leagues and three different continents – the W-League (Australia) in 2017–18 and 2018–19, the NWSL (United States) in 2017, 2018, 2019 and the FAWSL (England) in 2020–21.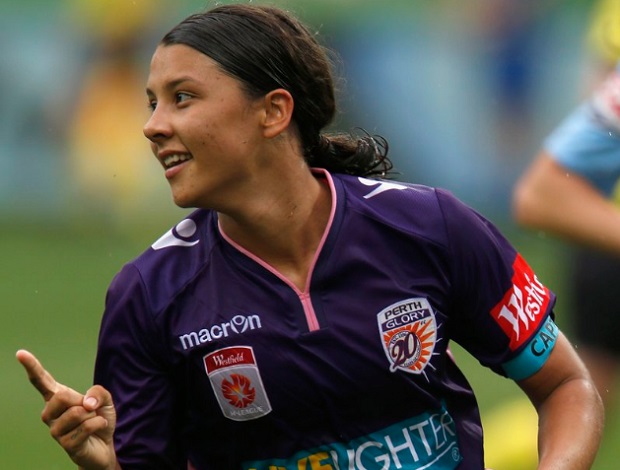 She moved to the USA in 2013 to join the Western New York Flash for the inaugural season of the NWSL and helped the club win the NWSL Shield. Thereafter, she went on to play for Sky Blue FC and the Chicago Red Stars in the same league.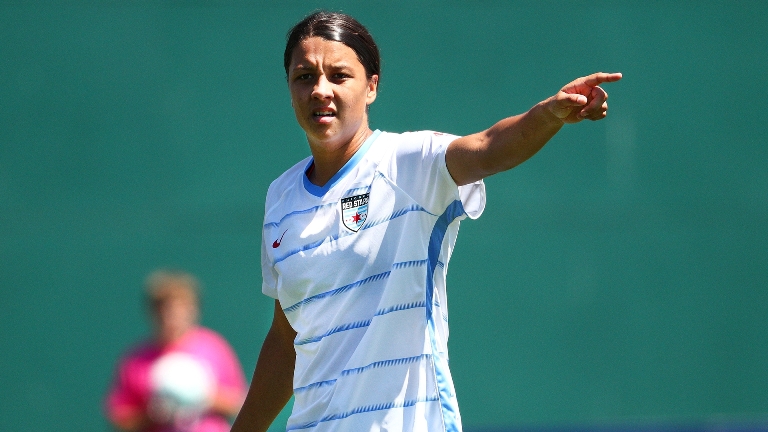 Kerr moved to England and joined Chelsea in 2019 to play in the FA Women's Super League after indicating interest to play in Europe, and rejecting multiple offers from other top clubs, including Olympique Lyonnais, Paris Saint-Germain and Barcelona.
Chelsea announced Kerr's arrival on 13 November 2019, revealing that she had signed a two-and-a-half year contract with the club. She made her Chelsea debut against Reading on 5 January 2020 and scored her first goal two weeks later against Arsenal.
With Chelsea, Sam Kerr won her first trophy in their 2–1 win over Arsenal in the 2019–20 Continental League Cup Final. They also won Women's Super League titles back-to-back in her first two seasons; and helped the team in 2021 to reach the UEFA Women's Champion's League final for the first time, but they lost the title to Barcelona.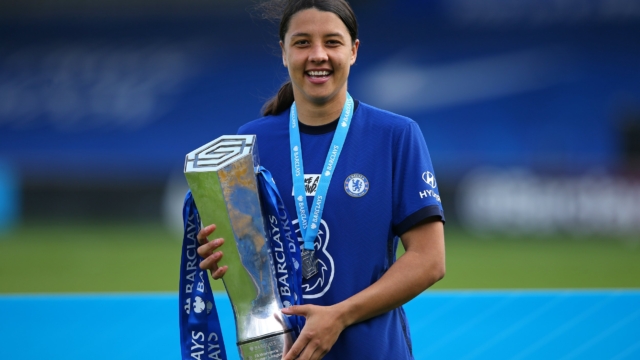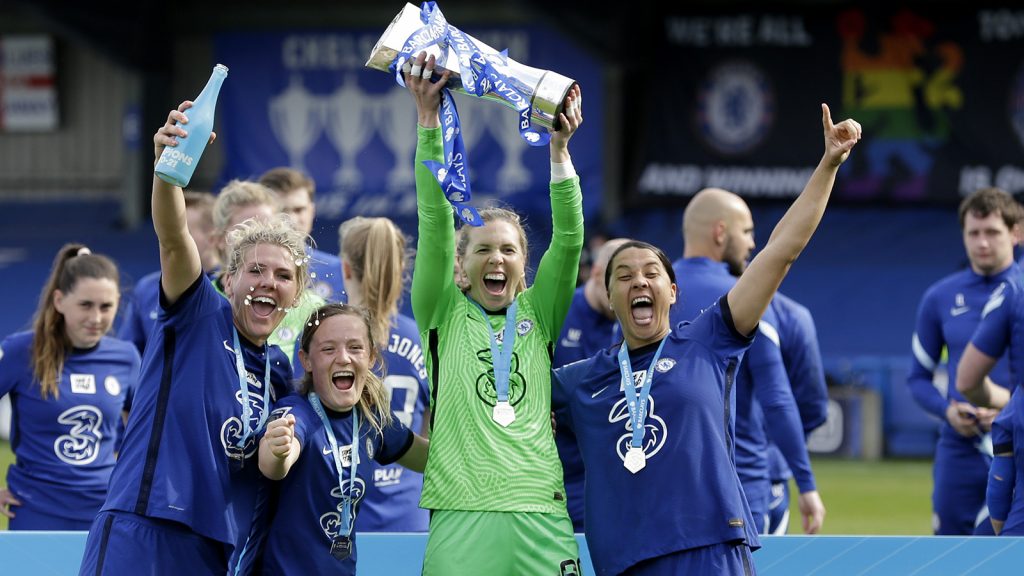 Kerr was 15 years old in 2009 when she played her first senior international game in Canberra as a 76th minute substitute in a friendly against Italy, which Australia lost 5–1. She scored her first international goal at the age of 16 during the 2010 AFC Women's Asian Cup final against North Korea, helping Australia draw 1–1 in full-time.
She has been with the Australian squad since then, rising to the position of The Matildas' captain in 2019. She was part of the team that represented Australia at the 2010, 2014, and 2018 AFC Women's Asian Cup tournaments. She also played the 2011, 2015, and 2019 FIFA Women's World Cups as well as the 2016 and 2020 Summer Olympics.
After her debut in 2009, Kerr had a slow goalscoring start at the international level and was riddled with horrifying injuries. However, she exploded in 2017 and by 2019, she set highest goal scoring record in USA and became the first Australian player – male or female – to score a hat trick at a World Cup tournament.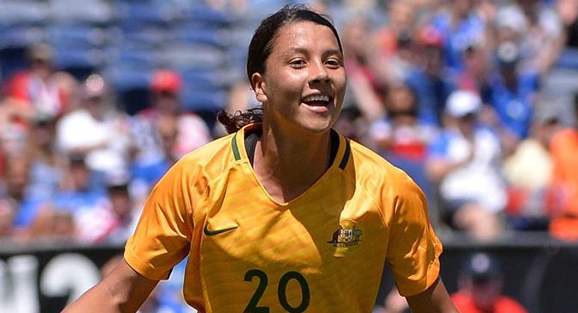 HER HONOURS
Sam Kerr's impressive performance earned her the 2017 and 2018 Julie Dolan Medal as the Best Player in Australia.
She is also a four-time recipient of the PFA's Women's Footballer of the Year Award, awarded in 2013, 2017, 2018 and 2019; and the first and only Australian women's footballer to be named to the shortlist for the Ballon d'Or, having been nominated in all editions of the award in 2018, 2019 and 2021, ranking 5th and 7th, respectively.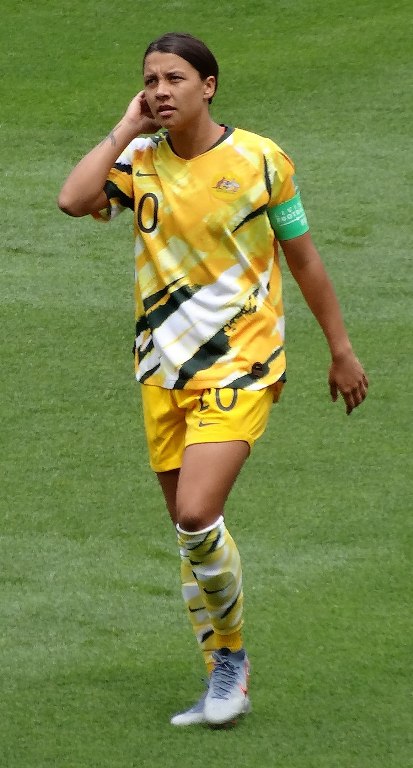 Her awards also include:
Football Media Association (FMA) International Player of the Year (2013 and 2014)
Young Australian of the Year (2018)
ESPY Award for Best International Women's Soccer Player (2018 and 2019)
ESPY Best NWSL Soccer Player (2019)
Kerr has been nominated for the BBC Women's Footballer of the Year award from 2018–2021 and has been named to the Top 10 of The Guardian's The 100 Best Female Footballers In The World from 2017–2020, winning in 2019. For more on her achievements, READ HERE.
Kerr who is unequivocally one of the best female footballers in the world is best known for her speed, skill, tenacity and wild back-flip goal celebrations.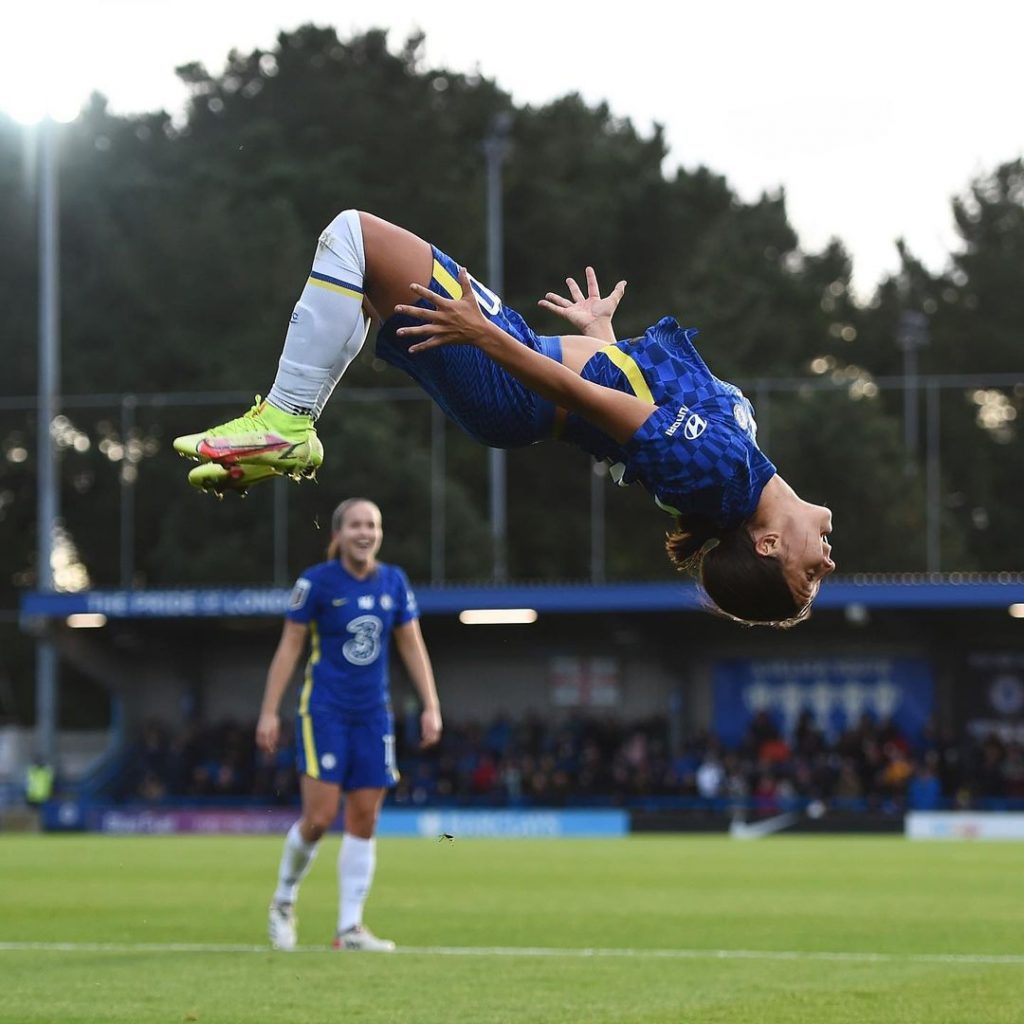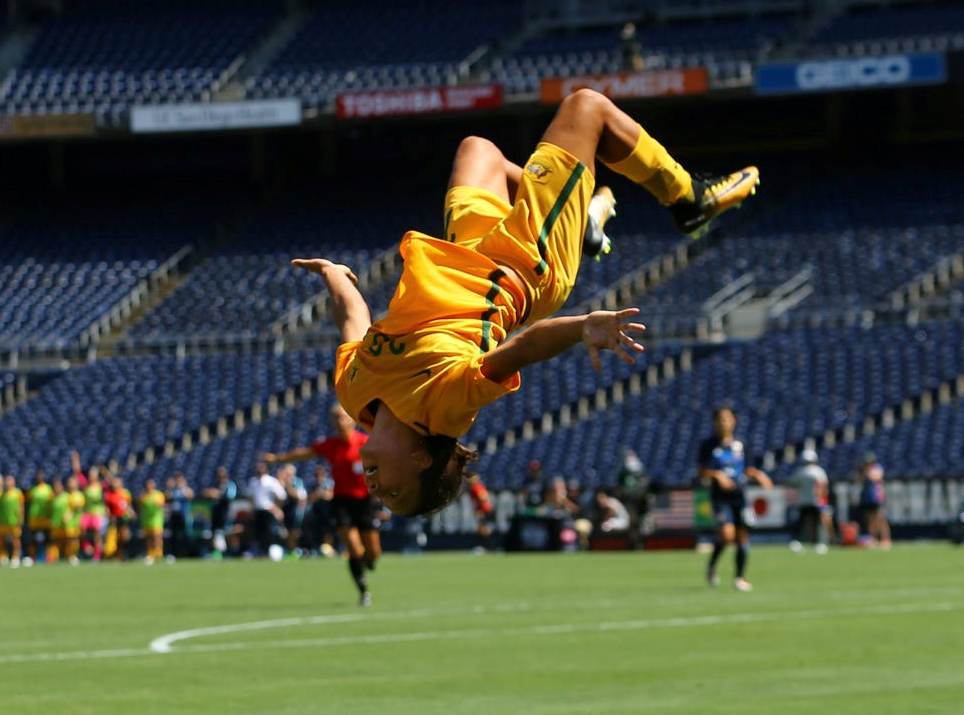 SAM KERR'S SALARY
When Kerr moved to Chelsea in 2019, she signed a mega-money contract worth $410,000 per year, though there are a number of reported discrepancies over the exact figure, with some suggesting it was a $500,000 agreement, making her the second highest earning female football player in the world, behind recently retired Carli Lloyd who played for US National Women's Team.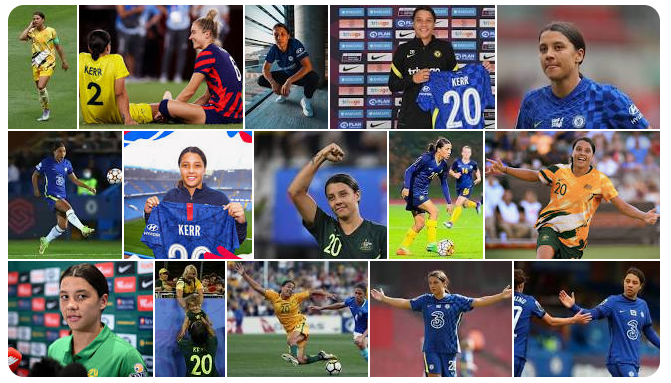 Kerr is also the face of Nike Australia since signing an endorsement deal with Nike. In 2019, she starred in a commercial, Dream Further, that aired during the Champions League Final and 2019 FIFA Women's World Cup. The same year, her trademark back-flip was featured in the Nike ad, Dream Crazier along with other women athletes like Serena Williams, Megan Rapinoe, and Diana Taurasi and aired during the 91st Academy Awards. She is also a brand ambassador for Coca-Cola-owned Powerade.
Sam Kerr became an author in 2021 after publishing her first book, her autobiographical football themed children's book series, 'Kicking Goals'.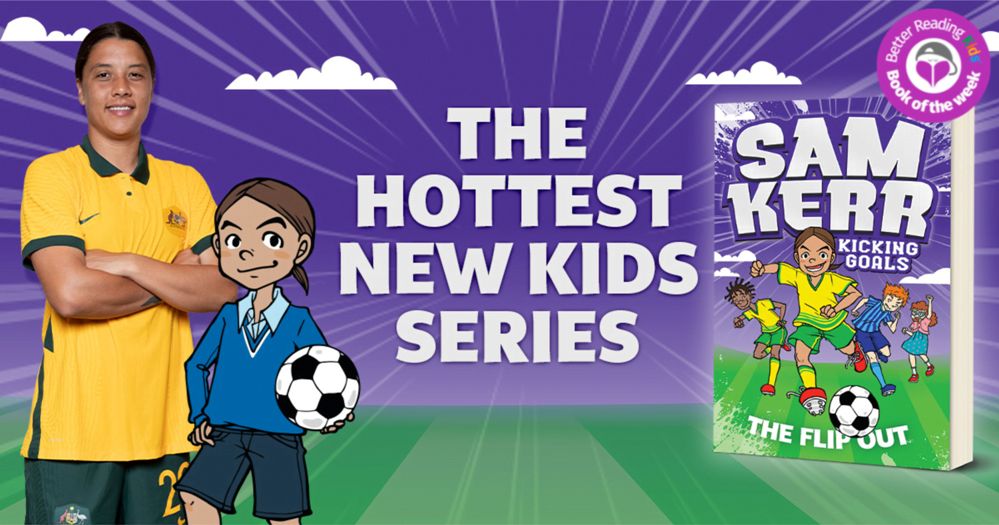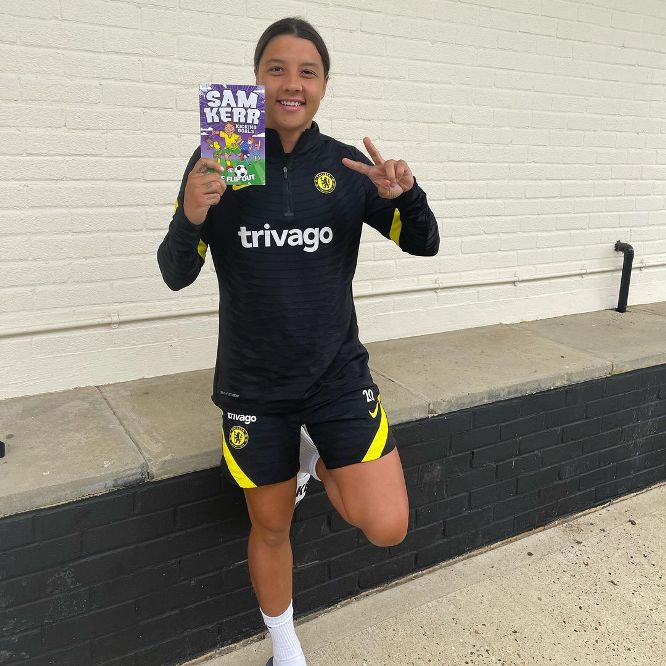 ABOUT HER FAMILY
Sam Kerr's impressive career is no surprise to some considering the fact that she comes from a family rooted in sports. Her mother, Roxanne, comes from an athletic family while her father and uncles were professional footballers in the West Australian Football League (WAFL). Another uncle of hers, J. J. Miller, was a champion jockey who won the Melbourne Cup in 1966 with Galilee. Sam's father, Roger Kerr, was born in Calcutta to an English father (a featherweight boxer) and an Indian mother who played basketball.
Sam's only sibling and older brother, Daniel Kerr, was a professional Australian rules footballer like their father. Rules football also called footy, is a contact sport played between two teams of 18 players on an oval field.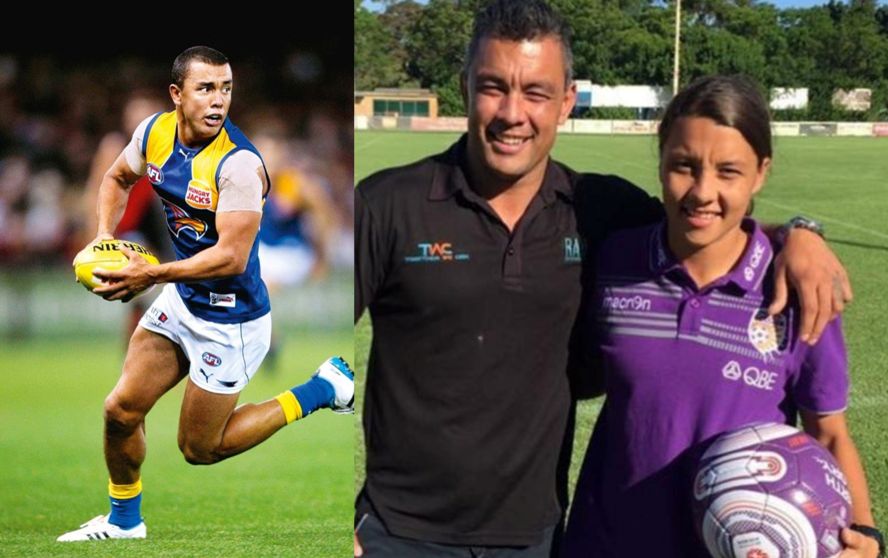 Sam Kerr played Australian rules football as a young child from age 4. She followed her brother to play the sport until switching to main football at the age of 12 majorly because of gender restrictions.
Despite facing some struggles transitioning from Australian rules football to football, at age 13, she was spotted by Perth Glory striker Bobby Despotovski who described her athleticism and raw talent as "exceptional". The encounter transported her W-League and international debuts at age 15.
ABOUT HER LOVE LIFE
Sam Kerr is currently dating American football star, Kristie Mewis who plays as a midfielder for Houston Dash and US Women National Team. Sam was previously in a relationship with former Perth Glory and Chicago Red Stars teammate, Nikki Stanton before they went their separate ways.
Sam and Kristie's relationship shook social media when it first made news headlines at the 2020 Tokyo Olympics after the USA team beat the Australian team 4-3 to win the Bronze medal. Sam who is the captain of the Aussies and the leading goal scorer broke down over the loss and was seen devastated on the field.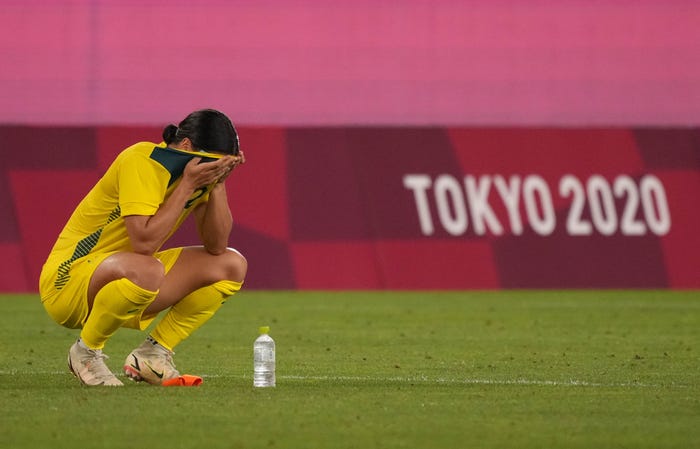 On seeing the devastated Sam, US midfielder Kristie Mewis who should be celebrating with her teammates went to comfort and offer a shoulder to Sam to cry on.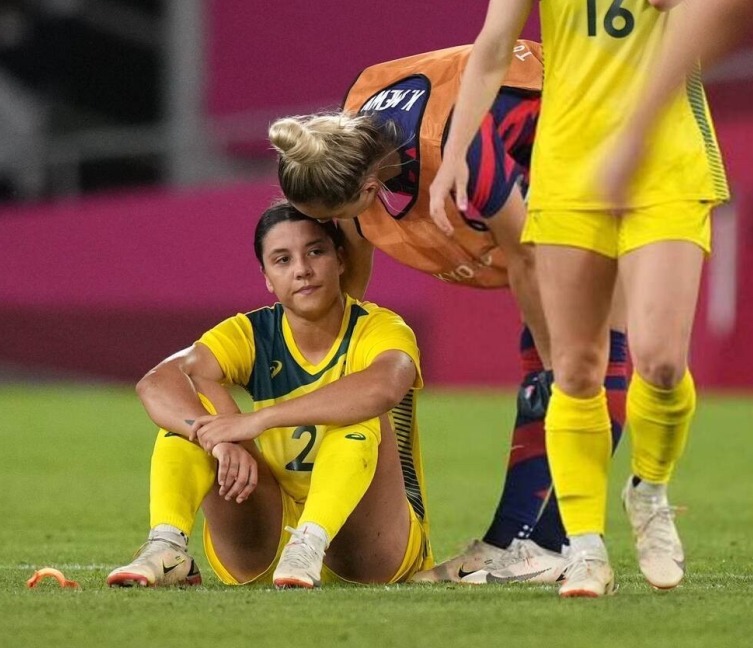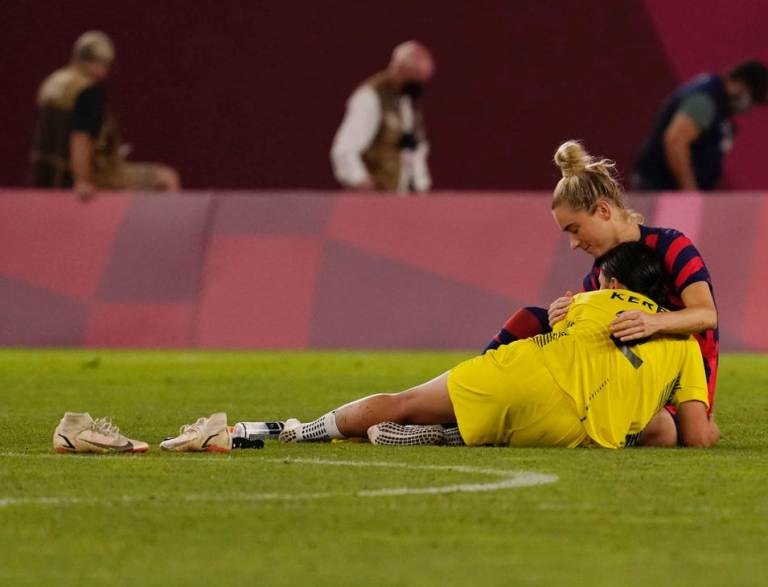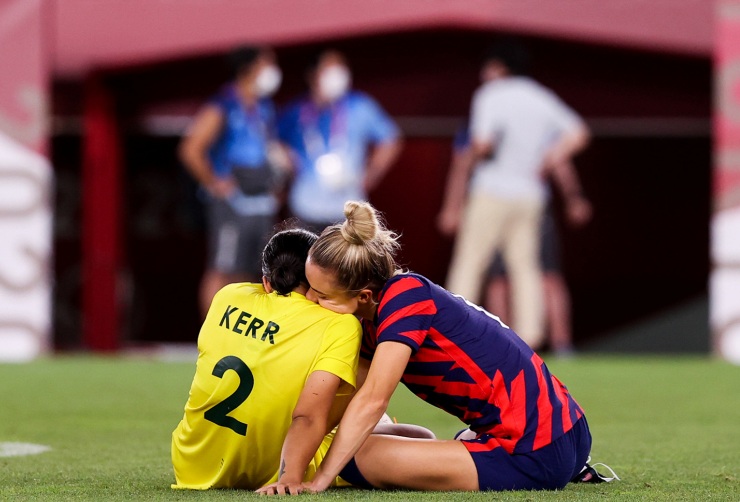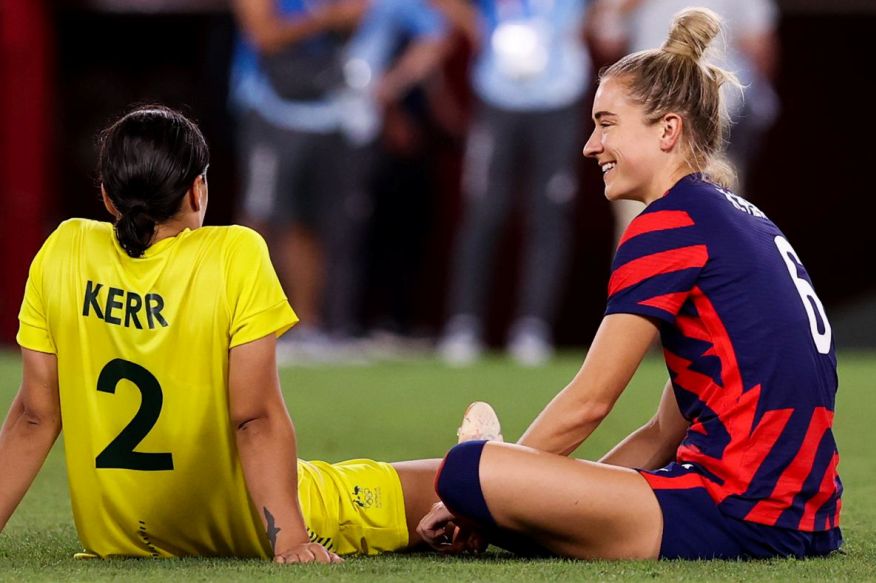 After photos of them hugging on the pitch went viral, some on social media assumed it was simply good sportsmanship between them. However, days after, the two shared more intimate photos of them kissing to confirm they are in a relationship. Below are photos they shared to confirm they are dating.