Senator Ben Murray Bruce has replied the people who criticized his recent post urging Nigerians to support domestic products in order to bolster the Naira's value and enhance the nation's economy.
Over the weekend, Senator Ben Murray Bruce expressed his views on the reasons behind the Naira's depreciation and offered insights on how Nigerians can contribute to economic growth through a post on his social media platform.
''The Naira is finding its proper and natural value because the Central Bank of Nigeria has stopped the practice of defending the Naira with $1.5 billion monthly.
If you want the Naira to rise, don't come on social media to vent. Instead, it would be best if you now defended the Naira by coming on social media with Glo data. Coming to Silverbird Cinemas to watch Nollywood movies. Shifting from Manchester United and Real Madrid to Enyimba FC and Kano Pillars. Eating Dangote spaghetti and washing it down with Chivita juice, and flying home for Christmas and New Year with Air Peace. Only when we #BuyNaijaToGrowTheNaira will the Naira appreciate, not when we come on social media to vent."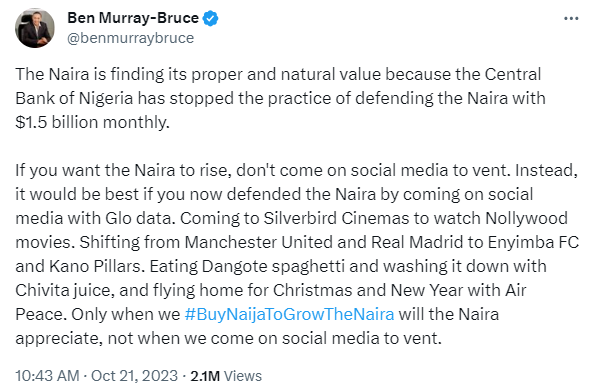 Some Nigerians read his post and picked holes in it. They argued that some of his businesses such as the Silverbird Cinemas, does not show exclusive Nigerian movies but instead, is filled with mostly foreign movies.
According to one X user, Osaretin Victor Asemota, Silverbird has made money from Nollywood but has not supported the industry. According to him, Netflix has been the one supporting the Nigerian movie industry. He said most of the movies shown in Silverbird cinemas are funded by foreign organizations and asked why Silverbird has not evolved into funding local contents.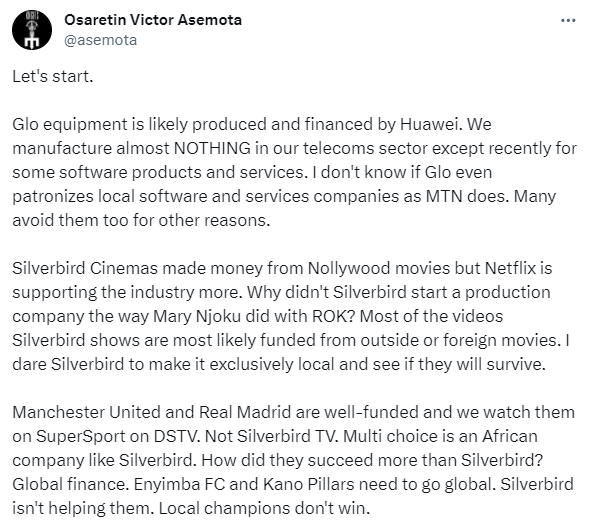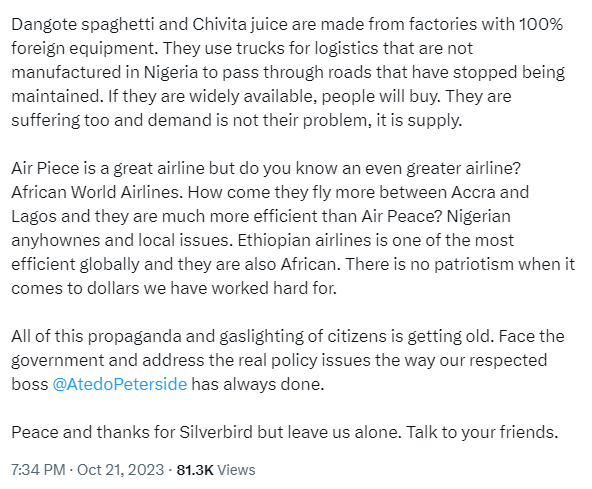 In an apparent response to the criticism, Ben Bruce via his X handle pointed out how he contributes his quota to growing the Naira. He mentioned the Number of Nigerian cars he has bought over the years. He went on to state that his late wife was an American but that he brought her to live in Nigeria, contributing to Nigeria's economic growth through her businesses.