As Nigeria look forward to celebrate her independence on October 1,Vice President of the of the Nation,Kashim Shettima has arrived in Afaka, Kaduna State for the passing out parade and commissioning ceremony of the 70th regular division of the Nigerian National Defense Academy cadets.

The Vice President arrived at Kaduna International Airport at 10am as a verifier on behalf of President Bola Tinubu and inspected the security personnel at the NDA main gate.
He awards flags to master battalions and awards to deserving cadets.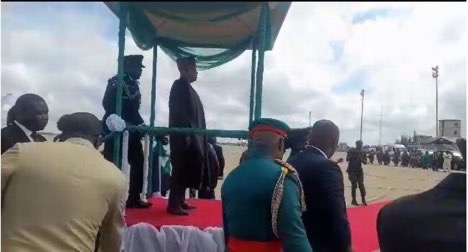 The dignitaries in attendance include the Host State Governor, Senator Uba Sani, Taraba State Governor, Agbu Kefas, all service chiefs, the Inspector General of Police, the President of the Senate, Senator Godswill Akpabio, the Minister of Defence, Abubakar Badaru and other Govt. Includes high-ranking officials.
More than 200 cadets, including cadets from African sister countries such as Liberia, Sierra Leone, Niger Republic, Chad and Uganda, have graduated from the Nigeria National Defense College as young officers.