A young man identified as Chidiebere has allegedly strangled his father, Christopher Onoh, because he refused to sell his land to send him overseas.
The incident was narrated by a Facebook user named Eric Doncleaono who alleged that Chidiebere killed his father and have since been on the run.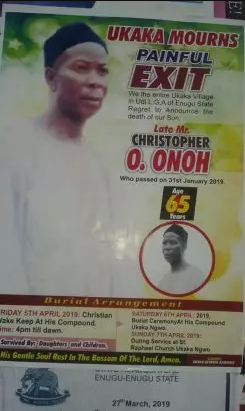 The incident was said to have happened on January 31, 2019, in Ukaka Ngo, Enugu State, and the suspect, who is said to be a notorious cultist, has being on the run since.
Read what Eric wrote below
Christopher Onoh( late) may ur gentle soul rest in peace, Amen. Christopher was a gentle, hardworki, intelligent man.
Brief story about his death!!!
31st January 2019, Christopher first son Chidiebere Onoh, a notorious cultist conspired with his friend Sir King n kill his dad, just bcos his dad refused to sell his land to send him abroad, having sold his late junior brother land and gave the wife and son the money.
The two shared the money among themselves and the wife left her matrimonial home to live at Egede for ichaka business while the son moved to an unknown place.
After they squandered the money, both came back and insist that Christopher must sell the land to send him abroad which he declined. Chidiebere and his friend Sir king conspired and kill Christopher with dog chain. This is Christopher corpse after he was killed in his parlour, they took the corpse to his bedroom and arrange him in his bed
Mr Christopher was laid to rest yesterday, April 6, 2019, while the police are still looking for Chidiebere.
The graphic photo of strangled Christopher is below