Nigerian gospel singer, Frank Edward has revealed that his mother had a near death episode which happened on Wednesday.
He made the disclosure on Instagram, claiming that the 'devil tried to kill his mum'
He wrote: "So the devil tried to kill my mum yesterday. I was told this afternoon and I was laughing. Devil e be like say you no know this woman."
He also added: "Praise the Lord with me fam I was worshiping God all through yesterday I didn't know I was fighting a battle  Don't joke with worship fam!!!"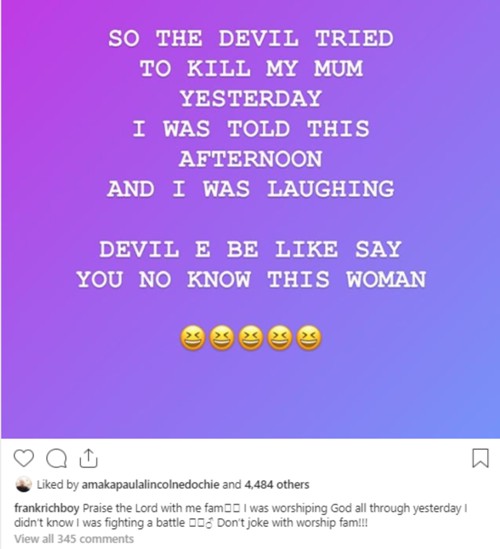 Well, Daddy Freeze who is the leader of 'FreeNation in Christ' responded to his post by correcting that the devil did not try to kill his mother. According to him, the devil never killed anyone in the bible and could not have started killing anyone now.
Daddy Freeze also went on to tell Frank that it is in fact, God who killed so many people in the stories in the bible, that it is God who can kill his mum or anyone. Read what Daddy Freeze wrote below and the argument that followed on his page.
"My dear brother I'm glad that your mother is doing well now.
However, you have publicized another popular misconception that forms the core of the current 'christian' belief system in Nigeria, that has no basis in scripture or theology.
"This delusion has enjoyed great prominence in the minds of Nigerian Christians, who were erroneously schooled into believing unscriptural distortions by greedy charlatans, making a fortune off them.
"Satan NEVER killed anyone in the entire bible, Both the Old and the New testaments attest to this, so why has he suddenly opened office in Nigeria to kill the parents of gospel musicians?
The scriptures tell us why….
◄ Hosea 4:6 ►
New Living Translation
My people are being destroyed because they don't know me.
"The new living translation (a more accurate translation of the 'Bible' that the FreeNation in Christ endorses), attributes destruction to 'not knowing God', while other translations suggest the 'lack of knowledge'. Regardless, both are consistent with the meaning of what is being communicated.
"Earlier, I said Satan NEVER killed anyone in the Bible, well there are 10 people the scriptures tell us were killed by Satan; Job's 7 sons and 3 daughters but this doesn't really count in my opinion, because Satan was minding his business when God told him to go and afflict Job (Scripture reference below).
"Scripturally, God killed about 2 million people, not counting the flood.
The greatest misconception in today's Christianity, is that Christ died to save you from Satan, this is NOT accurate, as scripturally you are 200,000 times more likely to be killed by God, than by Satan.
This begs the question; so why did Christ die then? The answer is simple, to save you from the wrath of God's law, which the 'lack of knowledge' exposes you to daily! ~FRZ
"Job 2
NLT
[1] One day the members of the heavenly courta came again to present themselves before the LORD, and the Accuser, Satan,b came with them. [2] "Where have you come from?" the LORD asked Satan.
Satan answered, "I have been patrolling the earth, watching everything that's going on." [3] Then the LORD asked Satan, "Have you noticed my servant Job."